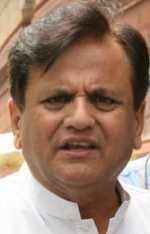 Congress chief Sonia Gandhi's political advisor Ahmed Patel on Saturday categorically stated that he was never a contender for the post of the chief ministers of Gujarat nor he shall ever be one. He was responding to a comment made by Gujarat CM Narendra Modi while addressing a public meeting at Maninagar on Friday. Modi had dared to Congress to declare Patel as their chief ministerial candidate.
Patel termed Modi's remarks as the one made by a "dejected and frustrated person".
Patel stated that he has never aspired to be the CM and he does not aspire for that post today. He has always remained away from power politics.
"As
the elections for Gujarat are approaching, those who have always cheated and misguided the people of Gujarat are feeling that the sand is fast slipping from beneath their feet and that is why they are making such downright derogatory and completely baseless and irrelevant comments," he said.
Patel expressed the hope that the people of Gujarat would not get misguided by such elements. 
Patel further stated, "The all-round development of Gujarat has remained my sole aim. I have tried to be of maximum help to the people of Gujarat through the policies of my party and shall always strive to be so. However, instead of meddling in the internal affairs of the Congress party, the Gujarat CM should concentrate on the internal squabbles of his own party," he concluded.