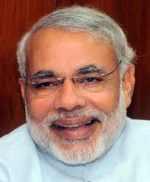 Gujarat Chief Minister Narendra Modi on Saturday launched the final leg of his campaign for the Gujarat assembly elections after offering prayers at the famous Somnath temple at Veraval.
"They (Congress) will face the worst defeat in Gujarat. The entire country is being crushed under the sins committed by the central government," Modi said outside the temple.
"The Congress' misrule, corruption, inflation and neglect of the common man will result in a thumping victory (for the BJP)," he claimed.
Later, addressing a rally in the town, Modi alleged, "The Congress has no concern about the development, it believes only in divide and rule policy.
In the last general election, of 2009, the Congress had promised to reduce inflation in 100 days, but it has failed to do so even after more than three years."
Gujaratis had "buried" Congress' vote bank politics and embraced Bharatiya Janata Party's development politics, he said.
Referring to the Congress allegation that the Modi government had allotted pasture lands for industrial use, he said, "In my eleven years as CM, only four per cent of grazing land has been given for industrial purpose, while the Congress, between 1980 to 1985, allotted 93 per cent of the grazing land for industrial purpose in south Gujarat."