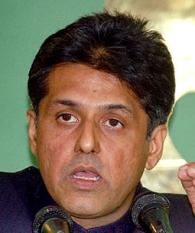 With an eye on the general election, the government on Monday unveiled a series of audio-visual clips, as a part of its multi media campaign to highlight its achievements and showcase the impact of the United Progressive Alliance's policies in the last nine years.

Information and Broadcasting minister Manish Tewari, in whose presence the presentation was made, said the multimedia initiative was different from the 'India Shining' campaign of the National Democratic Alliance in 2004.

"This is not India Shining but the actual story of India that we are trying to present to you through these 12-13 spots," Tewari told reporters.

Officials said that the audio video clips, which have been directed by filmmaker Pradip Sarkar of 'Parineeta' fame, would start playing in cinema halls and TV channels in the coming days.

Speaking about the audio video campaign, Tewari said that it was only a small glimpse of the silent revolution that had taken place during the UPA regime, where the people were being empowered through a rights based institutional structure encompassing schemes like the Right to Information Act, the Mahatma Gandhi National Rural Employment Gurantee Act, the Jawaharlal Nehru National Urban Renewal Mission, the Pradhan Mantri Gram Sadak Yojana and new schemes
like the Right to Food and Direct Benefits Transfer schemes.
Responding to a question on corruption, Tewari said that whenever there were any allegations against anyone, UPA Chairperson Sonia Gandhi and Prime Minister Manmohan Singh had asked the particular person to step down.
He hit out at the Bharatiya Janata Party, claiming the party had not shown a similar promptness against its tainted leaders in Karnataka.
He also added that the government was sensitive to the issue of inflation.
Tewari said there were five benchmarks on which governments could be rated including political stability and social cohesion.
The UPA government, the minister said, had ensured that nothing like the 2002 Gujarat "pogrom" is repeated anywhere.
Talking about the third benchmark of internal security, Tewari said that the situation in the country's north-east, north-west and the states affected by left-wing extremism was much better than it was in 2004.
He also lauded the government, saying that when it came to economic development, the country had grown under the UPA regime even when the rest of the world was reeling under the effects of the global meltdown.
Tewari also said that a huge effort had been put into ending the nuclear apartheid and other fronts in international relations.