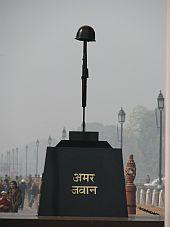 The government of India is doing little to keep the honour and dignity of the officers and jawans of the armed forces intact and continuing to talk peace with Pakistan when it should be showing aggression, says Dr N K Kalia, father of Kargil hero Capt Saurabh Kalia, who was captured by the Pakistan Army in 1999 and subjected to brutal torture.

Talking to rediff.com, Dr Kalia said: "I am glad that the army chief wants his commanders to hit back. This is a good sign."
 
"I hope all those who have lost their near and dear ones on the call of duty move the International Court of Justice and seek what is due to them from Pakistan," he added.
Expressing his anguish at the brutal mutilation of soldiers at the LoC, Dr Kalia had earlier asked New Delhi to take up this issue at international level to pressurize Pakistan on its erring soldiers who indulged in the heinous act which was in gross violation of the Geneva Convention to which both the countries were signatories.

He had also asked Prime Minister Manmohan Singh to take stern measures and prevent a repeat of such acts at the hands of the Pakistan Army