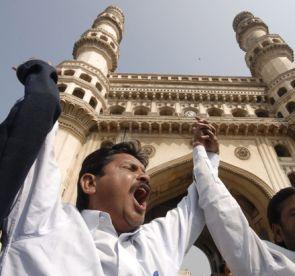 The demand for turning Hyderabad into a UnionTerritory on the lines of Chandigarh and make it the joint capital of Andhra Pradesh and Telangana may be considered by the government.
The inclination to consider the demand in the top echelons of the government came following continuous protests by both Congress and Telugu Desam Party MPs from the Seemandhra region and opposition to any division of Andhra Pradesh, sources said.
However, a decision has not been taken on it, they said.
Such a move would also assuage the feeling of deprivation among the people of Seemandhra region after the Centre's decision to create Telangana by carving out of Andhra Pradesh and making Hyderabad joint capital only for 10 years, sources said.
"Many people in Seemandhra region think that if Hyderabad is made a UnionTerritory and the joint capital of the two states, their interests would be protected. Hence, we may consider the demand," a source said.
On Monday, Home Minister Sushilkumar Shinde had said a note for initiating the process of carving out Telangana would be presented before the Union Cabinet in the next 20 days.
The Cabinet, after giving its approval for creation of Telangana, is expected to set up a Group of Ministers to go threadbare into issues arising out of the bifurcation of Andhra Pradesh.
This is likely to be followed by a resolution being sent to the Andhra Pradesh Assembly over the formation of the new state.
After formation, Telangana will be 29th state of India.
The Monsoon session of Parliament is witnessing strong protests by both Congress and TDP MPs from the Seemandhra region seeking "justice" and opposing any division of Andhra Pradesh.
The protests had repeatedly paralysed proceedings in the Lok Sabha and led to the suspension of 12 members belonging to both Congress and TDP.
An AICC committee headed by senior leader and Defence Minister A K Antony and comprising M Veerappa Moily and Ahmed Patel is hearing concerns of all stakeholders in the wake of the Congress Working Committee's decision to have a separate Telangana.
The CWC, which met on July 30, passed a resolution requesting the Centre "to take steps in accordance with the Constitution to form a separate state of Telangana ... within a definite timeframe".
The CWC also recommended to the government that Hyderabad should be made the joint capital for a period of 10 years.