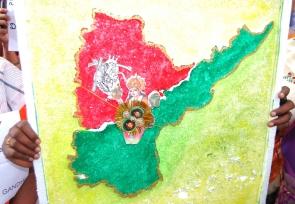 Congress legislators from the coastal Andhra and Rayalaseeema would soon undertake a 48-hour hunger strike in Hyderabad in support of united Andhra Pradesh.
The fast will be held after September 9, Andhra Minister S Sailajanath convener of United Andhra Pradesh members of Legislative Assembly and members of Legislative Council forum told reporters. He was speaking after the conclusion of a protest organised by the Seemandhra Congress legislators in the Legislative Assembly premises here.
Ruling Congress MLAs, MLCs and AP ministers from coastal Andhra and Rayalaseema regions on Tuesday organised a protest in the assembly premises in Hyderabad in support of united Andhra Pradesh.
About 15 ministers, more than 40 MLAs and 15 MLCs participated in the three-hour protest organised by the United Andhra Pradesh Congress MLAs and MLCs Forum. On the occasion, state Revenue minister N Raghuveera Reddy said the Congress is being unfairly blamed for division of the state though it was the last party to endorse the separate Telangana demand. All other major parties did not voice opposition to division earlier, he said.
The Congress legislators from the Seemandhra region had earlier organised a protest in the Parliament premises. The Congress party's endorsement of separate Telangana demand on July 30 triggered a wave of protests across Seemandhra, which is continuing till date.
During the protests, the Congress leaders noted that a "spontaneous movement erupted like a volcano" in Andhra-Rayalaseema region against state bifurcation.
Raghuveera Reddy also said the two parties that claimed to be championing the cause of Telangana too did not wish the state to be divided. He demanded that the Telugu Desam Party withdraw its resolution favouring creation of Telangana and write a fresh letter to the Centre seeking united Andhra Pradesh. "This will strengthen our fight for a united state," he said.
He also lashed out at YSR Congress over its topsy-turvy stand on the statehood issue. He was highly critical of opposition parties saying they were interested only in political gains.

Image: A protest against a separate Telangana state in Hyderabad

Photograph: SnapsIndia