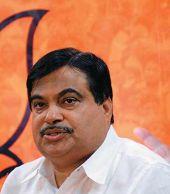 Terming as "baseless" the allegations made against him by Arvind Kejriwal, Bharatiya Janata Party president Nitin Gadkari on Wednesday wondered if there was a collusion between ruling Congress and India Against Corruption to divide the votes in a bid to occupy the opposition space.
Reacting after Kejriwal and others levelled allegations against him of getting land from Maharashtra government, Gadkari said he has been active in Vidharba region of the state as a "social enterprise" to prevent farmer suicides.
Talking specifically about the land in question, Gadkari said it was a "wasteland" given on lease to a charitable trust and was not owned by him as alleged.
"The allegations are baseless, wrong and unfortunate...I have been working in the area as a social enterprise for the benefit of farmers...The allegations of land (grabbing) are absurd. Land has been given on lease to a charitable trust which functions like a cooperative. It is not owned by me," Gadkari said.
Asked about the charges of quid pro quo and any "setting" between him and former Maharashtra Irrigation Minister Ajit Pawar, Gadkari said "Congress' image is going down due to corruption cases and they (IAC) are trying to defame BJP to occupy the opposition party space which belongs to us.
This is a conspiracy of Congress and IAC to divide the opposition votes."  He refused to elaborate on this issue.
Asked if he was ready for a probe as demanded by Kejriwal, Gadkari said "I am ready for any kind of probe."
He claimed the land (about 100 acres) was a wasteland valued at only Rs 20 lakh. "The land has not been given to a private company or an individual. It is not personal."