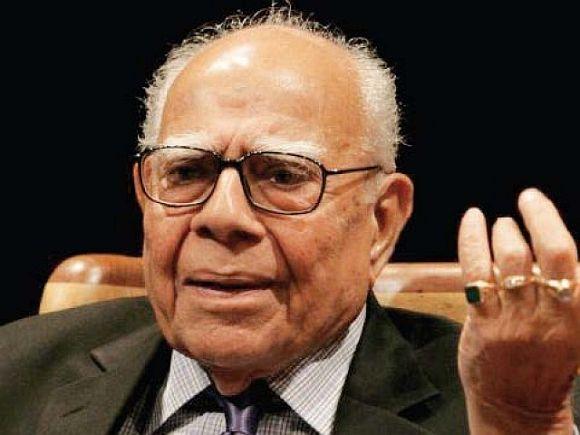 Stirring the hornet's nest in the Bharatiya Janata Party, noted lawyer Ram Jethmalani has strongly pitched for projecting Gujarat Chief Minister Narendra Modi as its prime ministerial candidate in the next Lok Sabha elections.
In a letter to BJP President Nitin Gadkari, he said the party must declare its prime ministerial candidate to help convince the voters in its pre-2014 election campaign.
"I do not think that the choice is difficult...I would want Narendra Modi whose integrity and administrative ability are not in doubt," Jethamalani, a Rajya Sabha member, said in his two-page letter.
The party, which has kept the issue of prime ministerial candidate in the backburner with several contenders on the scene, got the letter from Jethmalani who said he wanted to attend the recent Surajkund meeting of the national executive to which he was not invited.
Speaking in favour of Modi, he said, "He has been a victim of diabolic propaganda directed to projecting him as an anti-minority bigot. This undeserved black spot is easy to erase. Every aspiring candidate should do some sincere introspection and discover his own disqualifications."
Referring to minorities, he said, they must be given complete assurance of security and opportunities for becoming prosperous and progressive.
"All past wrongs must be forgiven and forgotten. This requires projecting those who have earned the respect and confidence of the minorities," Jethmalani said.
When asked whether Gadkari was also in the race for prime ministership, he said, "I personally think that I will prefer Modi."