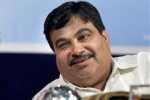 With activist Arvind Kejriwal targeting Nitin Gadkari, Congress leader Digvijaya Singh saw vindication of his stand that the Bharatiya Janata Party president was "more a businessman than a politician".
"I have been saying from the very beginning that Nitin Gadkari is more a businessman than a politician. What Kejriwal has said is nothing new," the Congress general secretary, who is a known detractor of the BJP chief, told reporters.
In an apparent dig at the activist, Singh said he would write a letter to Kejriwal to tell him that his intentions were not clear in exposing the BJP. The Congress has generally maintained that Kejriwal and his team were the "B team" of BJP.
The Congress demanded that the opposition party clarify before the nation the "very serious" allegations against him.
"We give the opportunity to BJP first to clarify each and every allegation before the nation. We are waiting for the answer from BJP first", party spokesman Rashid Alvi said when asked for his reaction to Kejriwal's charges against Gadkari.
Taking a dig at BJP, Alvi said "whenever these people make allegations against anyone or against us, BJP not only appreciates it but at the same tune, they make the same allegations without knowing the truth.
"Today, same people are making allegations against them and very serious allegations -- not only BJP but its national president is involved", he said.
Addressing a press conference here, Kejriwal alleged Gadkari was illegally favoured by Maharashtra goverment in allocation of farm land.
Besides, he charged Gadkari with being in league with Maharashtra's ruling Cong-NCP to get undue personal favours and keep quiet as quid pro quo.