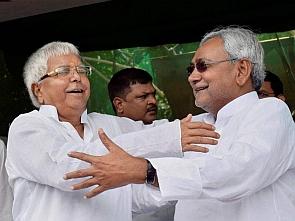 In Bihar, Nitish Kumar and Lalu Prasad have come a long way from being bitter rivals for over two decades to friends with benefits. Their grand alliance along with the Congress has won them six of the 10 assembly seats in the by-elections on Monday.
Clearly, Prime Minister Narendra Modi's magic, which helped the Bharatiya Janata Party wrest victory in the Lok Sabha elections, has failed in the Bihar with the party bagging four seats.
"I am thankful to the people of Bihar, who voted for a secular alliance committed for development with justice and communal harmony," said Nitish at a press meet in Patna after the by-polls results.
Slamming the BJP, he added that it had made wild allegations against Lalu and him. "BJP leaders repeatedly said that we were working for the return of the jungle raj. People have proved them wrong."
Rashtriya Janata Dal's Bhai Virendra said that Lalu-Nitish's magic worked and the Modi factor failed in Bihar. "The results have proved that the BJP won due to the division of secular votes in Bihar and that there is no Modi wave."

Shakti Yadav, another leader from the RJD, added, "It is a win of social justice. People have reposed their faith in the champions of mandal politics over 'Kamandal' politics of the BJP and Modi."

Janta Dal-United leader Neeraj Kumar said that the people have rejected the BJP and Modi in Bihar. "RJD and JD-U's decision to
join hands was a right one."
The RJD has won three seats, JD-U two and the Congress one. The Congress has won the Bhagalpur assembly seat from the BJP after a gap of 23 years. Ajit Sharma defeated BJP's Nabhay Choudhary by 17,000 votes.
BJP's alliance partner Lok Janshakti Party did not win even a single seat.

The BJP had swept the general election in May, winning 31 of the Bihar's 40 parliamentary seats. After their rout in the Lok Sabha polls, Lalu and Nitish Kumar, who fought each other for 20 years, came together with the Congress to take on the BJP.

Image: RJD chief Lalu Prasad and JD-U's Nitish Kumar