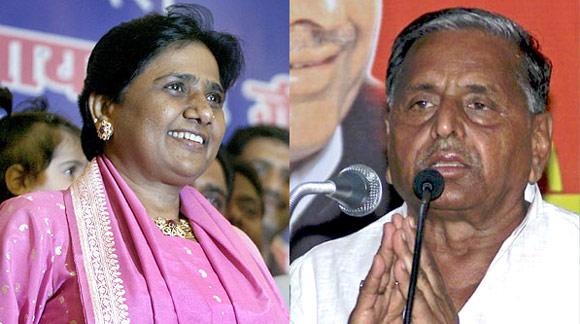 After all, unlike the barriers between Nitish and Lalu, the forge between Mulayam and Mayawati has not been limited to just political differences, it has been a personal war, says Sharat Pradhan/Rediff.com
The reunion of Rashtriya Janata Dal chief Lalu Prasad Yadav with former Bihar Chief Minister Nitish Kumar did give rise to speculation about a possible re-shaking of hands between Samajwadi Party supremo Mulayam Singh Yadav and Bahujan Samaj Party chief Mayawati in Uttar Pradesh. In Bihar, it was Lalu who floated the idea of Mulayam-Maya rapprochement, and in UP, Mulayam gave credence to it by saying that he was game if Lalu were to become the go-between.
Mulayam's positive gesture was no surprise. In fact, he has made such overtures on a few earlier occasions too. But Mayawati has always been firm and resolute in asserting a flat "no".
Strangely, the media lapped up the initiatives taken by Lalu and Mulayam without taking into account how Mayawati would react to the suggestion. Surely, one had to be totally naïve to believe that the inimitable BSP supremo would even remotely agree to the idea.
After all, unlike the barriers between Nitish and Lalu, the forge between Mulayam and Mayawati has not been limited to just political differences. It has been a personal war.
The physical assault by Samajwadi Party legislators on Mayawati and her legislators in Lucknow's state guest house on June 2, 1995 is something that Mayawati is not ready to forget or overlook under any circumstances. She has expressed her ire against that incident on many occasions and has been candid enough to say, "That was a plot to kill me and finish the BSP, therefore there is no question of pardoning Mulayam."
Those who have been witness to the June 2 incident would remember how BSP legislators were thrashed in full public view inside the state guest house premises where the then 39-year-old Mayawati was holed up in a suite, which the SP goons left no stone unturned to break open.
She bolted her room from inside, and her then on-special duty officer Captain Sikander Rizvi pushed all the furniture in to the room towards the entrance door to prevent any forced entry. At least 200 SP leaders and goons were spread all over the guest house premises and after failing in their effort to cajole her into opening the door, they showered full-throated filthy invectives at her and also did not hesitate to issue blatant threats.
The reason for their wild behavior was not far to seek. Barely a few hours ago, Mayawati had pulled the rug from under Mulayam's feet, leaving the barely year-old SP-BSP alliance in doldrums. The impending loss of power was something Mulayam (then the chief minister with BSP support) was not ready to take lying down.
If it was his craving to stick on to power that provoked Mulayam into teaching BSP a lesson in 1995, it was the battle for survival that has led the SP chief to sign truce with Mayawati now. After all, Mulayam was well aware of the discredit that his son Akhilesh's 29-month-old government has earned for the party. Having failed on major governance issues Akhilesh had disappointed a major chunk of his supporters who had propelled him to power with an impressive 224 seat victory in a 403-member state assembly in March 2012.
And with Narendra Modi having swept UP by bagging a record 73 of the 80 Lok Sabha seats, the writing on the wall was loud and clear. Even though the next assembly poll is due only in 2017, the law of diminishing returns that had set in for the ruling SP dispensation clearly shows how the SP graph was dipping. Perhaps Mulayam sees a tie-up with his bête noire as the last straw for revival of his party.
Surely, that was not how Mayawati looks at it. Even if she were to sink her two-decade old differences with the SP boss, there was very little that she would stand to gain out of a reunion to put up a united front against the BJP. Political analysts were clearly of the view that age-old social antipathy between the Yadavs and Dalits would not allow a sudden bonhomie simply because the two chieftains decided to get close.
"Even if Mayawati's following of Dalits would succumb under her pressure to support their traditional Yadav tormentors, the Yadavs were unlikely to transfer their vote to the BSP," points out a retired Dalit bureaucrat who is considered close to the BSP.
Even Muslims -- who form part of Mulayam's core support base -- were unlikely to easily extend their support to Mayawati, who has a history of aligning with Bhartiya Janata Party three times.
And needless to say -- even if Mulayam and Mayawati were to let bygones be bygones --would either of them agree to abdicate the position of chief minister if the alliance were to ever become a reality? Back in 1993, when these two players had struck chord with BSP founder Kanshi Ram's efforts, Mayawati was just a pawn, so the question of her staking claim to the UP throne did not arise.
Mulayam automatically got the CM's mantle. In the two decades that have passed, Mayawati's status, stature and ego have gone up manifold. To imagine that she would let go the prized chair would be even more naïve than believing that Maya-Mulayam could ever go the Lalu-Nitish way.