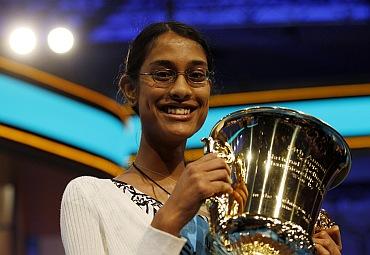 Sukanya Roy adds another chapter to the Indian American success story at the National Spelling Bee. Suman Guha Mozumder reports
For the fourth consecutive year, an Indian American was crowned the champion at the 2011 Scripps National Spelling Bee in Washington, DC, on June 2.
Fourteen-year-old Sukanya Roy, an 8th grader from Abington Heights Middle School, Pennsylvania, defeated 12 other finalists to bag the trophy and a cash award of $30,000 from Scripps, in addition to $2,500 in a United States savings bond from Merriam Webster.
Sukanya, who had participated in the 2009 and 2010 Scripps National Spelling Bees, tying for the 12th place in 2009 and 20th place in 2010, spelt the word 'cymotrichous' to clinch the title.
"My heart started pounding. I could not believe it when I heard the last word (that I am the champion),' she told ESPN after the win. 'I did not want get the word spelt wrong. I knew it. It is amazing. I do not know how to describe it (the feeling).'
Sukanya, Sue to friends, spelled 20 words, including periscii, naumkeag and volkerwanderung correctly, to the delight of the judges. She enjoys hiking, rock climbing, skating, and playing the piano and the violin, and wants to pursue a career in international relations.
Also among the top three was Arvind Mahankali of New York. The 11-year-old Forest Hills Montessori School student shared the spot with 14-year-old Joanna Ye of Pennsylvania.
Of the 13 finalists, seven, including Sukanya and Arvind, were Indian Americans. The list included this year's youngest finalist, 10-year-old Dhivya Senthil Murugan of Colorado.
She shared the sixth place with New York-based 11-year-old Shriram Hathwar and Texas-based 14-year-old Mashad Arora, 14. New York's Nabeel Rahman and North Carolina's Prakash Mishra, both 13 years old, tied at the 10th place.
After Nupur Lala captured the crown in 1999, an Indian-American has won eight of the previous 12 Spelling Bees.