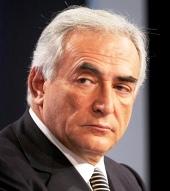 Dominique Strauss-Kahn, former chief of the International Monetary Fund, who is charged with sexually assaulting a hotel maid, was visited by his younger brother at his posh pad in Tribeca where he is under house arrest.

Younger brother Marc-Olivier Strauss-Kahn, director at Banque de France, was dressed in slacks and a short-sleeved button-down shirt during the visit, The New York Post reported.

He was accompanied by a woman who appeared to be in her 50s.

However, Marc-Oliver declined to comment.

Strauss-Kahn, 62, allegedly forced the 32-year-old maid at the Sofitel hotel to perform oral sex.

He was taken into custody a few minutes before his Air France flight departed for Paris on May 15.

The Post reported that Strauss-Kahn's defense team employed Guidepost Solutions, a private investigations firm run by ex-federal prosecutors, to cross-check every statement in his accuser's allegation.

The former IMF chief now has to wear an electronic monitoring device.

He has also posted $1million in bail and $5-million bond to stay out of jail and will next appear in court on June 6.