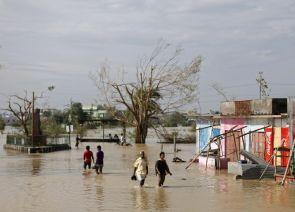 With the focus now shifting from disaster mitigation of cyclone to flood relief, the defence ministry on Monday said it has pressed four helicopters into service to evacuate the marooned local population as well as to drop relief materials to Phailin hit areas.
The choppers were pressed into service in Balasore, Odisha. The composite army columns comprising engineer and Infantry personnel have also relocated and moved towards Balasore, Ganjam and Jamshedpur to assist the authorities in flood relief operations.
The Navy has flown two aircraft from Kochi to Bhubaneswar carrying rations and also moved 12 tons of rations from Visakhapatnam to Behrampur. The Coast Guard aircraft and helicopters are patrolling the coast regularly and their four patrol vessels are on standby, a defence ministry statement said.
Medical teams of the three services and Coast Guard which have been deployed are providing medical assistance to local population.
Defence officials said the overall Force Commander at Bhubaneswar along with his task force Commanders for the Army, Navy, Air Force and Coast Guard are in constant liaison with the state governments.
Necessary coordination on allocation of resources is being carried out at the Defence Crisis Management Group at Delhi. Representatives of the state governments, NDMA and NDRF who are attending the DCMG meetings are giving regular updates.
This is facilitating the decision making body to coordinate the operations without any loss of time, defence official said.
Meanwhile the Indian Air Force also launched four Mi-17 V5 helicopters from Barrackpore, an Eastern Air Command airbase, towards relief and rescue operations in areas adjoining Balasore and Chandipur in Odisha on Monday.
The affected areas include Remuna, Dharampur and Badapal. Nearly 15,000 food packets provided by state administration were dropped in these areas. A total of 5.5 tons of load was dropped in four sorties, an IAF statement said.
Indian Navy divers were also additionally flown by the Mi-17 V5 helicopters for rescue efforts in areas badly inundated by water.
On the other hand, a 37-member Indian Air Force Rapid Action Medical Team comprising three doctors including a surgeon, anaesthetist and a lady medical officer accompanied by two nursing officers and other paramedics from Jorhat in Assam were among the first IAF personnel to be positioned in Odisha, to deal with medical emergencies post arrival of Cyclone Phailin, officials said.
"Around 30 patients mostly children and women who were injured as a result of either a fall or hit by flying debris during the storm were treated," surgical specialist, Wg Cdr SV Kulkarni, attached from an Air Force Hospital for the mission, said.
IAF had raised three RAMT units at Bangalore, Jorhat and Hindan in 1999 to provide immediate and organised medical and surgical aid in the event of a disaster.
Image: Residents wade through a flooded road after Cyclone Phailin hit Gopalpur in Ganjam district in Odisha
Photographs: Ahmad Masood/Reuters