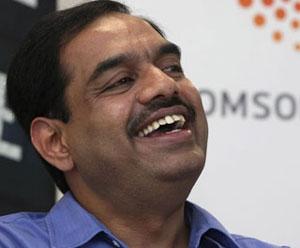 V Balakrishnan, who created ripples in corporate circles when he stepped down as board member of software behemoth Infosys recently, has joined the Aam Admi Party.
"Yes, I have become a member of the AAP. I have got the confirmation today," Balakrishnan told PTI.
His decision to join politics comes three weeks after his sudden exit from India's second largest software services exporter.
"They have revolutionised politics in this country; I am fascinated with it," Balakrishnan said.
Announcing Balakrishnan's exit on December 20 as a member of the board and from services of the company, Infosys had said the resignation is effective from December 31, 2013.
Balakrishnan, who joined Infosys in 1991 and later became its chief financial officer, was said to be a top contender for the post of chief executive officer.
In response to a question on whether he was looking for a full time political career along with business commitments, he said, "In the future, I think so; I think I will be able to manage both."
Reacting to a question on contesting the Lok Sabha elections, he said, "It's too early to say anything about it."
Balakrishnan was also the BPO head at Infosys as well as the chairman of Infosys Lodestone, a global management consultancy firm.