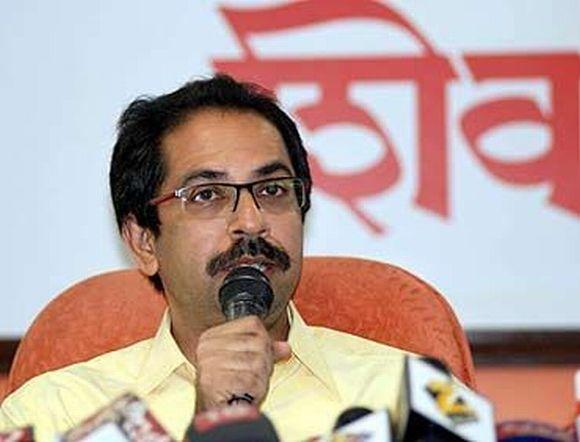 Continuing to target former Bharatiya Janata chief Party Nitin Gadkari over his plea to Raj Thackeray not to field candidates in Lok Sabha polls, the Shiv Sena on Wednesday said former is a "businessman, who has inked a deal with the Maharashtra Navnirman Sena chief."
Gadkari, who enjoys a good rapport with Raj, had met him at a suburban five-star hotel two days back, triggering speculation that the BJP was trying to win over the MNS chief into the National Democratic Alliance for the upcoming elections even as he said there was no reason for the Shiv Sena to be annoyed by his meeting with Raj.
"There is no doubt in the mind of the people of Maharashtra that Gadkari is a thorough businessman. In the field of politics also he has developed a skill to get whatever he wants without investing any capital," Sena chief Uddhav Thackeray said in the editorial of his party mouthpiece 'Saamana'.
"Gadkari is so skilled that without offering any 'dakshina' (money given for one's services) to the MNS chief, he has sought his support.
"And there are reports that without paying or accepting any toll, the MNS chief has agreed to accept Gadkari's plea," the Sena chief said taking a dig at Raj over his recent agitation against toll. "Gadkari asked the MNS chief not to field MNS nominees to avoid division in vote against Congress, which may harm Narendra Modi's chances of becoming the Prime Minister," he said.
If Gadkari has such reservations, then it may also arise questions in the mind of common people whether the Modi wave is really strong enough, Thackeray said.
"Modi is a strong leader and he has created a storm. There is a strong wave in favour of Modi not only there in Maharashtra, but in the entire country and the Shiv Sena is strongly behind him. The Mahayuti (the five-party opposition alliance including the Sena and the BJP) has entered into the fray to win as many seats to support Modi become the prime minister," he said.
"If Modi is great, the people of Maharashtra will wholeheartedly vote for him. Therefore, nobody should be concerned about the division of votes," Thackeray added.