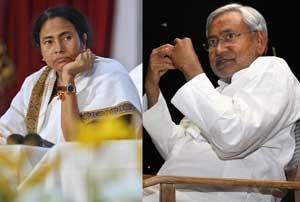 Amidst reports of a possible parting of ways between Janata Dal – United and the Bharatiya Janata Party, West Bengal Chief Minister Mamata Banerjee, who had given a call for a federal front, on Wednesday spoke to her Bihar and Odisha counterparts on the issue.
"I spoke to Nitish Kumar. Nitishji is in agreement that it would be good if we come together and form a federal front. We will all talk (with regional parties) in different states," Banerjee said after a meeting with JD-U General Secretary K C Tyagi in her official chamber.
"And Tyagiji has come to talk to me on the subject," she said.
"I also spoke to (Odisha Chief Minister) Naveen Patnaik on the issue over phone today. When we talk again we will decide the venue for a meeting," Banerjee, the Trinamool Congress supremo, told reporters.
"We are happy. And, you know some days ago (Jharkhand Vikas Morcha - Prajatantric chief) Babulal Marandi came from Jharkhand to talk about this. Two or three other leaders came and talked with us," she said.
Banerjee said, "Since my call for a federal front through a Facebook post some days ago, many are talking with us. We will talk about strengthening the federal structure".
She said her Bihar counterpart agreed that the formation of a federal front would be good for the country as well as the states.
"Nitishji said 'we will be happy if we can do it with the objective of the common cause of the people'," she said.
On his part, Tyagi said, "You have heard that she has talked with Naveen Patnaik and Babulal Marandi. We are going to have our party meeting within two or three days. We will respond after that. But we are still part of the NDA."
Stating that the JD-U had high regard for the Trinamool chief, he said, "Our leaders Sharad Yadav and Nitish Kumar have a long association with Didi. Sharad Yadav had participated in a rally held by Didi at Jantar Mantar."