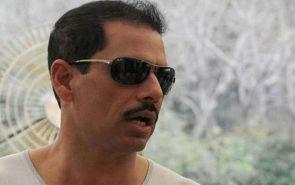 The Bharatiya Janata Party on Tuesday targeted Congress over the alleged land deals involving her son-in-law Robert Vardra. The Opposition's relentless attack in Parliament leading to several disruptions.
Raising the issue, Yashwant Sinha said in the Lok Sabha, "Though there are several business schools which teach models of making money, there is one highly connected person who did not go to any such school but has given a model where no investment is made but windfall gains of thousands of crores are made."
Congress members were on their feet in protest. Sanjay Nirupam walked into the Well and protested against BJP's charge.
Parliamentary Affairs Minister Kamal Nath and his deputy Rajiv Shukla, both seated in the front row, were on their feet. The BJP members countered them from their seats.
With the House in disorder, Speaker Meira Kumar adjourned it 2 pm.
The opposition forced the adjournment of Rajya Sabha till 12.30 pm as well.
In the Rajya Sabha, as Chairman Hamid Ansari took up the first listed question, BJP members were on their feet raising slogans on the issue.
"Please allow Question Hour to proceed," Ansari pleaded with agitated members and asked them to resume their seats.
With BJP members shouting slogans seeking probe and reply from the government on the Vadra issue, members on the treasury benches too were on their feet but nothing could be heard in the din.
"Every single rule in the rule book, every single etiquette is being violated," Ansari observed. "If the honorable members wish the House to become a federation of anarchists, then it is a different matter," he remarked amid strong protests from BJP members.
The government's argument is that Parliament can't discuss Vadra as he is not an MP and cannot defend himself against the allegations.
The BJP termed it as a "serious case of fraud with a nationalised bank".
After a meeting of BJP's parliamentary party, Deputy Leader of Opposition in Rajya Sabha Ravishankar Prasad rejected the Congress contention that the matter was state related.
"It is not a state subject. This is an issue of a serious bank fraud. It is a case of enrichment through the use of authority by collusion, of a fraudulent bank document and banking documents' manipulation becomes clearly a national subject apart from the larger issue of corruption," he said.
"How the documents of a nationalised bank were used for land transfer. How the entire government machinery was misused to benefit a person related to an important personality. We will like to raise it and will demand that we are allowed to raise the issue in both Houses and that Government must promise a fair probe," Prasad told reporters.