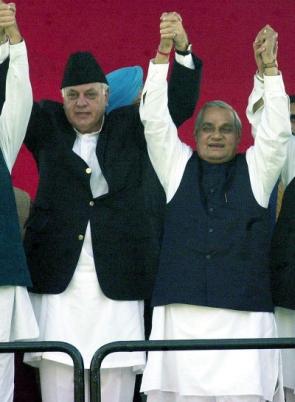 Union Minister Farooq Abdullah on Monday backed the Bharatiya Janata Party's demand for according the Bharat Ratna to former prime minister and veteran leader Atal Bihari Vajpayee.
The Union minister for new and renewable energy said he would make a "personal request" for bestowing the honour on Vajpayee.
"I am not a BJP man but I am an Indian and I think no one can forget that he is a fine leader," Abdullah said.
"I must tell you that the first time he talked in Lok Sabha, Jawaharlal (Nehru) jee went to him (Vajpayee) and said one day you will be the prime minister of this country. Nehru said this when no one could think that he would be PM one day," he said.
Abdullah said, "I would personally request that such a big personality (Vajpayee), who is bigger than the Bharat Ratna, should be given the due honour and it should be given now itself."
The BJP has demanded that the highest civilian award be bestowed on the former prime minister after the government announced the honour for cricketer Sachin Tendulkar and scientist C N R Rao.
Abdullah's National Conference was a part of the BJP-led National Democratic Alliance but it had left the coalition after the Gujarat riots.
Image: Atal Bihari Vajpayee with Farooq Abdullah ' Photograph: Reuters