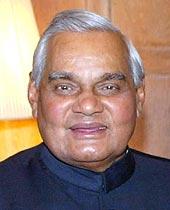 The Bharatiya Janata Party [ Images ] has once again raised the demand that party patriarch Atal Bihari Vajpayee [ Images ], who turned 86 on Saturday, should be conferred India's [ Images ] highest civilian honour -- the Bharat Ratna.
The BJP had raised this demand back in 2008, when party leader L K Advani [ Images ] had written a letter to Prime Minister Manmohan Singh [ Images ] about it, but the government remained, and remains, non-committal about it. Other former prime ministers who have been conferred the award are Rajiv Gandhi [ Images ], Morarji Desai, Indira Gandhi [ Images ], Lal Bahadur Shastri [ Images ], and Jawaharlal Nehru [ Images ].  
Vajpayee, known for his moderate views in a party that had risen to power on a shrill note, was instrumental in making his party a force to reckon with. His long-time associate LK Advani may have led the BJP's march to power, but Vajpayee it was who was deemed more suitable for high office, and went on to make history as the first and the only non-Congress prime minister to last a five-year term. Under his prime ministership, India went nuclear braving international condemnation, made impressive economic strides, and beat back Pakistan-backed intruders from Kargil [ Images ].
A major blot on Vajpayee's record, however, is his government's inability to staunch the post-Godhra riots in Gujarat in 2002.
In balance, though, not even Vajpayee's opponents would deny that his government, formed in the wake of the political uncertainty of the United Front years, served as a stabilising influence in trying times.
Do you think Vapayee is a fit candidate for the Bharat Ratna? Tell us what you think. Post your messages below.