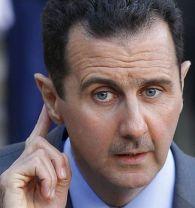 In his first interview since US President Obama sought congressional approval for military action in Syria, President Bashar Assad warned that US and its allies should "expect every action" in retaliation.
Assad warned that his government was not the only player in the region and that action may not necessarily come from his government -- a clear reference to his allies in Iran and the Islamic militant group Hezbollah.
"You have different parties, you have different factions, you have different ideology. You have everything in this region now," said Assad in an interview to CBS.
When asked if retaliation for US strikes could include the use of chemical weapons, Assad said, "If the rebels or the terrorists in this region or any other group have it. It could happen, I don't know. I am not fortune teller."
Assad's government has been accused of killing 1,400 of his own people in a chemical weapons attack on August 21 in Damascus' eastern Ghouta suburbs.
Russia, which is opposed to strikes against the Assad regime, has warned that it could destabilise the whole Middle East. Russian president Vladimir Putin has vowed to help Syria if it is was attacked.
President Obama, meanwhile, has been going all-out to convince Americans that an attack on Syria is needed for the long-term safety of the US.