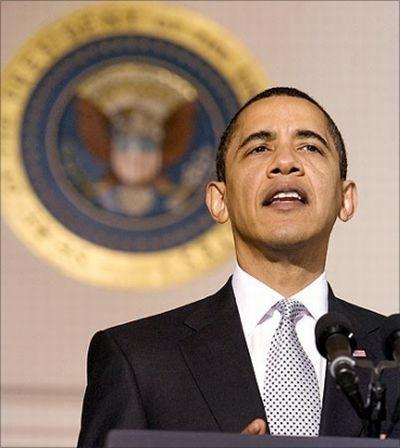 United States President Barack Obama on Saturday warned lawmakers against turning "a blind eye" to chemical attacks in Syria as he made a strong pitch to war-weary Americans for "limited" strikes in the strife-torn country.
"We cannot turn a blind eye to images like the ones we've seen out of Syria," Obama said in his weekly address.
"We can't ignore chemical weapons attacks like this one, even if they happen halfway around the world. And that's why I call on Members of Congress, from both parties, to come together and stand up for the kind of world we want to live in, the kind of world we want to leave our children and future generations," he said.
Giving details of his plans for action against the embattled Syrian regime, Obama said, "There would be no American boots on the ground. Any action we take would be limited, both in time and scope, designed to deter the Syrian government from gassing its own people again and degrade its ability to do so."
He contended that the action in Syria "would not be another Iraq or Afghanistan".
The Obama administration has accused President Bashar al-Assad's forces of killing 1,429 people in a poison-gas attack in the suburbs of Damascus on August 21, a charge denied by the Syrian government.
A week ago, Obama had announced his decision to go in for a limited military strike against the Assad regime to hold it accountable for the use of chemical weapons and sought Congressional authorisation for it.
Both the House of Representatives and the Senate are expected to debate and vote on the authorisation resolution next week.
Obama's plans for a military strike against the Assad regime suffered a setback last week when his ally Prime Minister David Cameron's resolution seeking authorisation for action suffered a shock defeat in the British Parliament.
Many world leaders at the just-concluded G20 summit also did not agree with Obama's plans for a strike.
Obama and his Russian counterpart Vladimir Putin could not reach consensus yesterday when they met for "candid and constructive" talks on the sidelines of the G20 summit.
Amid deep global divisions over US plans for strikes, US Secretary of State John Kerry travelled to Europe to seek support for military action.
Kerry held informal talks with the EU's 28 foreign ministers in Lithuania, which currently holds the EU's rotating chair, with the bloc itself sharply split on the issue.
Justifying his plans for a strike, Obama said, "This is not a decision I made lightly. Deciding to use military force is the most solemn decision we can make as a nation." He said this is not an open-ended intervention.
Referring to the chemical attack, Obama described it as the worst chemical weapons attack of the 21st century.
The US has presented a powerful case to the world that the Syrian government was responsible for this horrific attack on its own people, he said.
"This was not only a direct attack on human dignity; it is a serious threat to our national security. There's a reason governments representing 98 per cent of the world's people have agreed to ban the use of chemical weapons," Obama said.
"Not only because they cause death and destruction in the most indiscriminate and inhumane way possible, but because they can also fall into the hands of terrorist groups who wish to do us harm," Obama said, adding that this was the reason that prompted him to ask for a military action against the Syrian regime.
Meanwhile, Syria on Saturday said it will defend itself in case of a possible attack by the US and termed the developments as American "conspiracy" to topple the current regime.
Syrian Ambassador to India Riad Kamel Abbas also "challenged" the US to come out with evidence on use of chemical weapons saying Washington was doing the same thing it did in Iraq.
He said the developments in Syria were not aimed at democracy or reforms but were part of a big conspiracy by the US to topple the Assad regime or change its policy in the Middle East.
"If the US attacks Syria, we will not stay quiet. We are not in favour of American policy. We will fight and protect our people and will not surrender our country," Abbas said on the sidelines of an event.
On being asked how it was preparing itself in case of a possible attack, Abbas said information was being shared with "friends".
"We have a strong army to defend ourselves and we have active missions who explain what the situation is. This is a conspiracy of the US and they want to control our natural resources. The only thing US wants from Middle East is oil and the security of Israel."
Asking the international community to come and see if there were any chemical weapons in Syria, Abbas said everything was based on a "weak lie" propagated by the US.
"I challenge the US to show us evidence about this issue. We have our evidence. The US has not showed any evidence and this is a weak lie coming from them. It is the same lie which US used against Iraq and after 10 years, they said that it was a wrong story. We ask the international community to come and investigate chemical weapons in our country," said Abbas.