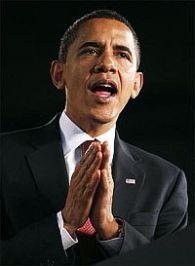 After spending most of his time over the weekend calling up and meeting lawmakers, President Barack Obama will go all out on a media publicity blitz over the next two days to convince war-weary Americans that an attack on Syria is needed for the long-term safety of the US.
Obama on Sunday dropped by the dinner that Vice President Joe Biden hosted for several Republican Senators at his residence. Among those in attendance were Lindsey Graham, Susan Collins, Saxby Chambliss, Bob Corker, Kelly Ayotte and Deb Fischer.
The White House has said President Obama will sit for interviews with six TV networks on Tuesday as he makes his case to the nation for military intervention in Syria. These news channels include ABC, CBS, NBC, PBS, CNN and Fox News.
This is probably for the first time that Obama would be giving interviews to all these six major news channels on the same day. He is also scheduled to hold a series of meetings with top lawmakers over the next two days as part of his effort to give a final push for the attack on Syria.
Such a rare move by Obama comes as both the Chambers of Congress -- House of Representatives and Senate -- are expected to debate and vote on his request for a Congressional authorisation for a military strike against Syria.
Obama's Chief of Staff Dennis McDonough yesterday exuded confidence that the White House would be able to get the necessary Congressional authorisation. He also claimed that the US has necessary international support.
"I've been talking to dozens of members of Congress over the last week. Not a single one of them so far has rebutted or refused the intelligence, which is to say everybody agrees that on August 21st, (President Bashar) Assad used chemical weapons against his own people," he told the ABC News.
"So the question for Congress this week is a very simple one: Should there be consequences for his having used gases, chemical weapons to kill more than a thousand of his own people, including more than 400 children?
"The answer to that question will be followed closely in Tehran...in Damascus...by members of Lebanese Hezbollah. So this is a big question and a big week for Congress to address that very fundamental national security issue," he said.
"We didn't go to Congress because we thought this was an empty exercise. We are investing a lot of time and effort in this because we think Congress should be a full partner in our national security matters, and when they are, we're stronger as a country," McDonough said.
"Now, members of Congress also need to understand that if they want to see Assad held to account for this activity, they should vote yes on the resolution," he said.
However, several lawmakers were not as confident as the White House. "I think it's an uphill slog from here," Congressman Mike Rogers told the CBS news.
"It is very clear he's lost support in the last week. Again, it's difficult to try to make a decision if you don't have access to the classified information," he said.