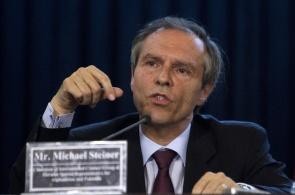 German Ambassador to India Michael Steiner on Friday said that by ending the boycott of Gujarat Chief Minister Narendra Modi and his government, Germany was not endorsing anybody but giving respect to India's democracy.
"This has nothing to do with an endorsement. I am a representative of a foreign country, like my European colleagues. We have to respect that India is a democracy with functioning institutions and we have to stay neutral, that is what we are doing," Steiner said here when asked if his three-day visit to Gujarat was an endorsement of Modi.
"You have heard in our speeches this -- we are not endorsing a politician," he said.
Asked if Germany would give visa to Modi if he became the prime minister, the Ambassador said "let's not discuss hypothetical things but let's discuss principled positions, our position -- the position of my country as well as partners in European Union -- is a position of respect for India.
"Respect for the institutions, for those who are elected, for those who are office-holders and of course we will respect any results the Indian voters will deliver early next year. If we do not do this, we would not honour our words -- India is the biggest democracy of the world with functioning institutions," Steiner said.
EU countries ended the boycott of Modi after Germany and other European Union states hosted a lunch for him in New Delhi when he won the elections in Gujarat last December for the third time.
EU countries had imposed a diplomatic boycott on Modi's government after the 2002 riots.
"We have learnt one thing -- co-operation you don't do between two capitals and between two central governments, you have to reach out to the entire country. You have to do this in Germany and of course you have to do this in India. India is much more than Delhi," he said.
Speaking about Gujarat, the envoy said "Gujarat is a very interesting state for investments, for co-operating in science and also education and this is why we are here, as in other places. I think our philosophy is we need to intensify the links between civilised societies."
Speaking about India's achievements, he said "The mars mission has proved the potential of India, I think everybody in the world and also in my country, Germany, was impressed."
Image: German Ambassador to India Michael Steiner
Photograph: Reuters