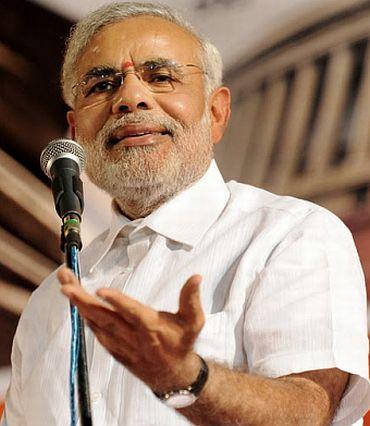 Bharatiya Janata Party's prime ministerial candidate Narendra Modi said in Korba in Chhattisgarh on Friday that chief ministers of Congress ruled states refrain from going among the people fearing that people may throw stones at them.
"Chief ministers of Congress-ruled states fear going among the public. Wherever Congress leaders dare to go, people show them shoes because they failed to give accounts of their work during their tenure," Modi said.
Addressing a rally in Korba assembly constituency, around 200 kms away from Chhattisgarh capital Raipur, he attacked Congress bigwigs such as United Progressive Alliance chairperson Sonia Gandhi, Congress Vice President Rahul Gandhi, former Chhattisgarh chief minister Ajit Jogi and state Congress chief Charandas Mahant over several issues
"The Congress is trying to mislead people by saying that people will suffer an electric shock if they press buttons of BJP candidate on electronic voting machines. Through such statements, they are trying create an atmosphere of fear. The Election Commission should take immediate action against such misleading publicity," Modi said.
However, the Kunkuri assembly constituency returning officer has already served a notice to senior Congress leader and former chief minister Ajit Jogi for allegedly violating the poll code by misleading voters over the functioning of electronic voting machines when they cast their vote.
Modi said that the people of Korba committed a big mistake in 2009 elections by not choosing a BJP candidate from the Korba Lok Sabha constituency.
"In the previous election, people in the Korba Lok Sabha constituency committed a big mistake. They elected a person who even does not believe the tribals and the soil of Chhattisgarh," Modi said, without naming Union Minister of State for Agriculture and Food Processing Charandas Mahant, who is the Congress member of Parliament from Korba.
Accusing Sonia and Rahul of being insensitive to the plight of poor, he said, "They don't know what is poverty. They make fun of it. They mislead the people. Before the previous Lok Sabha election, they promised to curb price rise within 100 days if their party is elected to power. Now people face the menace of price rise," he said.
He said that the Congress spreads rumours that the atmosphere in Chhattisgarh is favourable to it, adding that the BJP will be elected to power again.