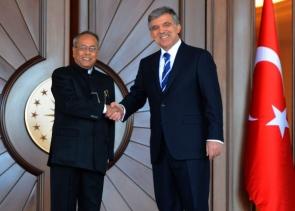 Raising the issue of cross border terrorism during his first visit to Turkey, a traditional ally of Pakistan, President Pranab Mukherjee on Tuesday said the menace must be dealt both "individually and collectively" as it was a threat to global peace.
The President also made it clear that India was against any third party intervention to resolve bilateral issues with Pakistan.
The President, who met his Turkish counterpart Abdullah Gul and held 'restricted' talks with Turkish Prime Minister Recep Tayyip Erdogan on Monday, said both the leaders agreed with him that terrorism was a menace threatening the world and it needed to be dealt both "individually and collectively".
Turkey is a key member of the Organisation of the Islamic Conference, holding the post of secretary general of the grouping, and is considered a traditional ally of Pakistan.
"I briefed the leaders of Turkey on our problems with terrorism particularly cross border terrorism. I also briefed them about initiatives that our government has taken to promote friendly relations and peace with Pakistan," he said while talking to reporters on board the aircraft.
"We agreed that terrorists rake wanton destruction and have no religion, no friends," the President said and added that Turkish prime minister sought assistance from India in learning about the experiences in dealing with terrorism, a menace also faced by Turkey.
The President denied that India wanted Turkey to influence Pakistan in dismantling the terror infrastructure and said "Our approach in respect of Pakistan is that it is essentially a bilateral issue which is to be resolved between India and Pakistan within the framework of Simla agreement.
"Therefore, the question of any third party intervention on these issues does not arise and India has never sought for any third country's intervention."
Asked whether his talks with the Turkish leadership was a diplomatic victory in weaning (rpt) weaning away that country from Pakistan, the President said "You know every country has its own approach towards other country.
"This much I would like to say that I briefed them about our initiatives on Pakistan and also the requirement which has been repeatedly placed before Pakistani leadership and I also mentioned about the last meeting of the two Prime Ministers at the United Nations."
"But this is the situation which we will have to recognise that while talking on terrorism, there was convergence of views that terrorists have no religion, no country, no respect for border," Mukherjee said.
"Their only aim is to continue wanton destructions of everything and we also recognised that this is not confined to one country or a region, it appears to be menace to the international peace and tranquility," he said.
Asked if ties with Pakistan would be an impediment in improving ties with other countries, Mukherjee said "Our relations with other countries is not specific to any country. We do not believe that bilateral relationship between two countries would be determined in the context of a third country."
Turkey has not been supportive of India's bid to the permanent membership of the United Nations. The President made it clear that the issue was discussed in "general terms".
"Every country has its own angularity and approach towards the United Nations reforms. How it should take place, when it should take place and the open ended working group which is functioning from 1995 till date, almost 18 years, it has not been possible to find a common ground about the date, time and broad contours of the reforms of the UN. Therefore, there was no new areas to discuss except in general terms," he said.
The UN had formed an Open Ended Working Groups on Security Council Reforms but till date there has been no decision.
On Afghan situation, the President said both the countries agreed that it was important to support democracy and development in Afghanistan.
"Turkey appreciated our significant role in capacity building and developmental projects in that country. Like India, Turkey is also involved in a range of developmental activities in Afghanistan and Prime Minister Erdogan confirmed that it would continue to promote peace and stability in Afghanistan even after 2014. We agreed to build on these convergence of views," he added.
Mukherjee said that during his talks with the Turkish leadership, it was decided that the two countries should develop a comprehensive mechanism for exchange of perspective on all areas of mutual interest.
This mechanism would "govern our cooperation in the United Nations, G-20 and other multilateral groupings as well as global issues like climate change, food security, sustainable growth and energy security," the President said while returning from his six-day visit to Belgium and Turkey.
Image: President Pranab Mukherjee meeting the President of Turkey Abdullah Gul at the Presidential Palace at Ankara in Turkey.
Photograph: http://presidentofindia.nic.in/