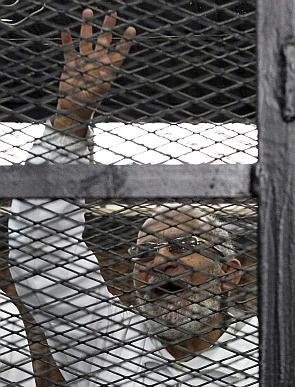 An Egyptian court on Monday sentenced Muslim Brotherhood chief Mohamed Badie and his 682 supporters to death, a move that could raise tension in the country, which has been gripped by turmoil since the ouster of Islamist president Mohammed Morsi last year.
The convicts were accused of involvement in killings and attempted murder of policemen in the southern Minya province on August 14, the day police killed hundreds of ousted Islamist president Morsi's supporters in clashes in Cairo.
Of the 683 accused sentenced on Monday, about 50 are in custody while the rest are either out on bail or on the run.
Several woman relatives of the accused waiting outside the courtroom fainted on hearing news of the death penalty.
In a separate case, the same court reversed 492 death sentences out of 529 it passed last month, commuting most of the death penalty to life in prison.
Seventy-year-old Mohammed Badie, a white-bearded professor, became supreme guide of the Brotherhood in 2010. He had condemned the removal of president Morsi by the Egyptian military.
Morsi belongs to the Brotherhood, an Islamist movement, which swept all elections in Egypt following the fall of military dictator Hosni Mubarak in 2011. Morsi's term was marked with political uncertainty and violence in a deeply polarised country that ultimately led to his ouster by the powerful military.
Egypt has been in political turmoil since the overthrow of Mubarak during the 2011 Egyptian Revolution.

Image: Muslim Brotherhood leader Mohammed Badie

Photograph: Reuters