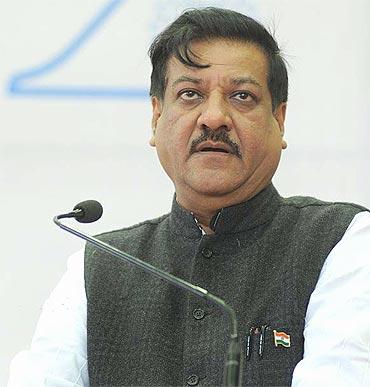 Maharashtra Chief Minister Prithviraj Chavan came under a scathing attack at a meeting of the All India Congress Committee headed by senior leader A K Antony, with some state leaders telling the high command that the party's fate would be no better in the assembly polls due by October.
Going into the causes of the worst electoral debacle in the Lok Sabha polls, the committee was told by the detractors of the chief minister as also Manikrao Thakre that the failure of the state leadership to rise to the occasion cost the party dearly, party sources said.
The panel led by Antony met party leaders from Maharashtra and Madhya Pradesh on Saturday. Argument of Chavan's supporters was that the writing was on the wall as pre-poll surveys conducted by the party immediately after Narendra Modi was projected as Bharatiya Janata Party's prime minister candidate, had projected as much as 54 per cent support to the National Democratic Alliance and just 36 per cent to the ruling United Progressive Alliance. This gap widened as the poll neared.
Detractors of the chief minister complained to the Committee that candidates did not get adequate resources from the state leadership at a time when the NDA campaign was aggressive. There was not much to write home about the accomplishments of the Chavan government, they said.
Congress has been a divided house since the defeat in the Lok Sabha polls with detractors of the chief minister like Narayan Rane and Ashok Chavan giving ample indications that The Shiv Sena-BJP alliance will assume power in the coming assembly elections if the chief minister is not changed.