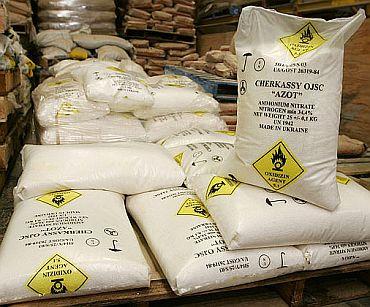 Around 6,750 kilogram ammonium nitrate was seized on the Kerala-Karnataka border on Monday. Investigations revealed that the two persons arrested during the seizure were transporting the explosive to a quarry in Kozhikode.
Ammonium nitrate also happens to be the explosive-of-choice for the Indian Mujahideen.

Though Monday's seizure has no connection with the Indian Mujahideen, it raises a very pertinent question -- How can such an explosive be procured so easily?

Consider these facts.

* About 40,000 kg ammonium nitrate went missing last year.
* The amount of explosive used in a bomb is just 1 kg.
* Not even a single investigation into the various blasts in the country has led to the source from where the chemical was procured.
Officials lament the lack of proper legislation in the country vis-a-vis such chemicals.
Even though ammonium nitrate is manufactured in legitimate industries, criminals do manage to get their hands on it.
Investigations have shown that ammonium nitrate is stolen from factories with insider help.

The problem, according to an officer from Kerala, is the quarry-owner. He is sanctioned a restricted quantity of explosives to carry out blasting work. He, however, tries and sources more than the prescribed quantity to carry out more blasting activity than permitted.
The terror angle is another part of the problem. IM founder Yasin Bhatkal, during his first year in the outfit, had managed to procure a truck load of ammonium nitrate from Udupi district in Karnataka and even succeeded in transporting it to several parts of the country.

The Indian government has very often spoken about the need to regulate ammonium nitrate.

There was a proposal to tag the bags of ammonium nitrate so that the same could be traced in case it was stolen or used for an attack. It was also decided by the home ministry that stocks of the ammonium nitrate would be checked on a monthly basis by the area district magistrates.

It was also decided that in case there was any discrepancy, the manufacturer will be held responsible.
While the rules and regulations are still taking shape, the easy access to the chemical continues unabated.