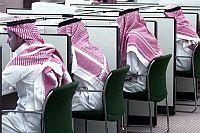 The Indian Embassy in Riyadh has urged the Indian expatriate community not to panic on the basis of media reports that claimed Saudi Arabia plans to reserve 10 per cent jobs for locals, a move which will hit over 3 lakh low -- and semi-skilled Indian workers, especially from Kerala.
"The Embassy urges the Indian expatriate community not to panic based on inaccurate reports published by some sections of the media," an embassy statement said.
The new Saudi labour policy, called 'Nitaqat', can lead to the denial of job opportunities for a large number of expatriates from India, many of whom are from Kerala.
The embassy said a number of Indians have been approaching the diplomatic quarters for OutPass (Emergency Certificate) to leave the country.
At present, the embassy is accepting application forms for OutPass. Out Pass will be issued after completion of formalities including Exit formalities with the Saudi authorities.
Emergency Certificate is a one-way travel document valid for 3 months only.
"Please note that no amnesty has been declared by Saudi authorities. Indian Embassy is in touch with the Saudi authorities and will notify the Indian community if it receives any information in this regard. Out Pass will be issued only after the Saudi authorities agree to grant permission for the final exit of the applicants," the statement said.
"Embassy will announce updates on these through media release. A 24-hour Embassy helpline would also provide information on these steps," it said.
It also said that those who already have a valid passport need not come to the embassy.
"The Embassy is fully committed towards the well-being of Indian nationals and will continue to address issues of their concern within the framework of applicable Saudi laws, keeping in view the excellent bilateral relations with this country and the welfare of more than two million Indians resident in Saudi Arabia," said the statement.
Earlier, Kerala Chief Minister Oommen Chandy had written to Prime Minister Manmohan Singh, expressing concern over the situation.
In 2011, 2.28 million Keralites were working abroad. Of them, some 570,000 are in Saudi Arabia, a report said.