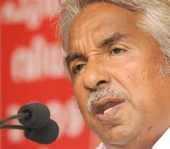 The resignation of Forest Minister K B Ganesh Kumar following allegations of domestic violence had its echo in the Kerala Assembly on Tuesday where opposition Left Democratic Front demanded that Chief Minister Oommen Chandy should step down on moral grounds.

As soon as the assembly began its proceedings, the LDF members were on their feet alleging Chandy had lost moral right to remain in office as he "misled" the House over the complaint by Yamini Thankachi against her husband.

Also read: Kerala forest minister quits over domestic violence charge
Though Speaker G Karthikeyan sought to pacify the agitated members saying the issue could be discussed during zero hour, they persisted with their demand forcing the House to be adjourned temporarily within few minutes after question hour.
Kumar, who belongs to Kerala Congress-B, a single-MLA constituent of the ruling United Democratic Front, resigned late on Monday night after his wife lodged a complaint against him in a police station.
Kumar, who had rejected his wife's allegation as "totally baseless" and even ruled out resigning from the ministry, however, tendered his resignation to the chief minister. Sources in the chief minister's office said the resignation letter will be forwarded to the governor on Tuesday.
The long-running family dispute reached a flashpoint on Monday with Kumar filing a divorce petition in a local court. Yamini had alleged that she had been a victim of domestic violence for the last 16 years and accused her husband of having "illicit affairs", while Kumar retorted saying he was a victim of "black mailing". In the wake of embarrassment caused by the incident, the ruling UDF top leaders are said to have advised Kumar to quit leading to his resignation.

Image: Kerala Chief Minister Oommen Chandy