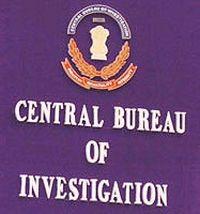 The Central Bureau of Investigation's 50th anniversary celebrations were billed as among one of the most awaited in New Delhi.


And despite the heavy downpour that lashed the national capital on Tuesday evening, the residence of CBI director Ranjit Sinha was teeming with VVIPs, including Prime Minister Manmohan Singh, his Cabinet colleagues and top leaders from parties across the spectrum.


However, the downpour, which arrived just 15 minutes before the celebrations were to begin, did sour the mood a trifle as the guests hardly begun to savour the lavish spread that had been laid out.


A senior CBI official remarked that organisers had chosen to ignore the rain alert while making the arrangements in the courtyard of the agency director's residence.


Conspicuous by their absence with Congress President Sonia Gandhi, her political secretary Ahmad Patel and party Vice President Rahul Gandhi, and Finance Minister P Chidambaram.


Nevertheless, sources said that the guests enjoyed their evening.