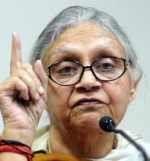 Facing criticism over the alleged suicide of gang rape accused inside Tihar jail, the Congress on Monday promised action for any "failure" by officials but dismissed contentions that Chief Minister Sheila Dikshit should be held responsible for it.
"Not at all, I don't think the chief minister is responsible. Where is the question of moral responsibility, when somebody has committed suicide," party spokesperson Rashid Alvi said when asked whether Dikshit should take moral responsibility for the alleged suicide in the high-security cell in Delhi.
Alvi, at the same time hastened to add that he was not concluding that it was a suicide and even if it was, it was a "very serious matter".
"Justice will be done. There is rule of law. An inquiry has been set up and truth will come out. We should wait for the inquiry report. Whoever is responsible will be punished," the Congress spokesperson said.
He also acknowledged that there was need for reforms in jail administration but disagreed with contentions that the incident showed there was no rule of law or a criminal justice system in the country.
"It is a serious matter, but the only way to ascertain the truth of it is by setting up an inquiry. What is the other way...If there is failure on the part of any officer, he will definitely be punished," Alvi said.
Ram Singh, one of the accused in the December 16 gang rape of a 23-year-old girl in New Delhi, allegedly committed suicide in Tihar Jail early this morning, raising questions over monitoring of undertrials. The news of his death immediately triggered demands from his lawyers and family for a CBI probe.
The girl was raped in a bus by him and his five associates, including a minor, in south Delhi after brutally beating her and also her male friend.
She had died in a Singapore hospital on December 29. Singh, who was arrested a day after the incident, was the driver of the bus in which the girl was raped.
Image: Delhi Chief Minister Sheila Dikshit