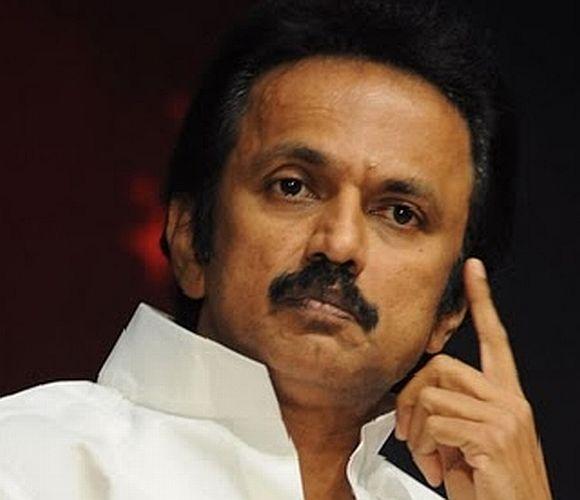 A day after a senior leader submitted his resignation from the Dravida Munetra Kazhagam demanding that M K Stalin be declared the chief ministerial candidate for the 2016 assembly polls, the M Karunanidhi-led party on Thursday accused him of indiscipline and suspended him from all posts.
DMK Organising Secretary P V Kalyanasundaram was suspended as he was working against the party's interest and thus bringing disrepute, party General Secretary K Anbazhagan said.
"P V Kalyanasundaram is suspended from all posts including the primary membership of DMK," he said. In his statement, Anbazhagan said legal wing secretary R S Bharathi had been appointed in Kalyanasundaram's place.
Kalyanasundaram, a staunch loyalist of party treasurer and Karunanidhi's younger son Stalin, had on Wednesday tendered his resignation from the DMK demanding Stalin be declared its CM candidate in Tamil Nadu.
He had also alleged that Karunanidhi's daughter Kanimozhi and former Union ministers A Raja and Dayanidhi Maran remain "aloof" from the party. He urged the leadership to remove from party posts, functionaries "facing land-grabbing and disproportionate assets cases", which effectively includes many senior leaders and former ministers.
He also urged that office bearers be appointed to newly restructured district units. Stalin's supporters have been pressing for his elevation for long, but Karunanidhi has deferred a decision amid sibling rivalry involving his Madurai-based elder son M K Alagiri, who had been expelled from the DMK recently, and Stalin over the succession issue.
The DMK was routed in the Lok Sabha elections, an outcome blamed on Stalin by Alagiri.