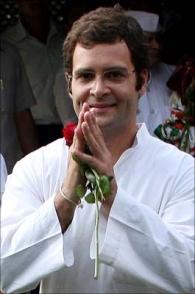 In a veiled attack on the Samajwadi Party and the Bharatiya Janata Party, Congress Vice President Rahul Gandhi on Wednesday said political forces were behind the recent Muzaffarnagar communal riots as they feel they cannot achieve electoral victory without creating such conflicts.
"People are made to fight for political gains...If Uttar Pradesh is lagging behind, it is because people are divided here. Hindus and Muslims are made to fight each other. One caste is made to fight another. The common people don't want to fight. There are such political forces who feel if there is no fight, they will not win. That's why they want Hindus and Muslims to fight," he said while addressing a public meeting in Aligarh, which is not very far from Muzaffarnagar, without naming any political party.
The ruling SP and BJP have been blamed for the recent riots in Muzaffarnagar and adjoining areas, which claimed 62 lives, as part of polarisation efforts ahead of the next Lok Sabha elections.
Exhorting people to unite, Gandhi said, "Till you unite, Uttar Pradesh cannot move forward. The Congress will help you do this and fight for you and your rights."
He also lamented that Indian politics had seen such times when one had to select a time to speak the truth, as he did on the issue of rejecting the ordinance brought by the government to save convicted lawmakers from immediate disqualification.
He also took a dig at the Akhilesh Yadav-led SP government in the state, saying it had made a lot of promises but fulfilled none of them, and said it was only the Congress that could ensure speedy development of the state through unity and harmony among all religions and castes.
Reminding people of his "fight for their cause" on forcible land acquisitions, the Congress vice president said he stood by his promise of providing a Land Acquisition Bill, which got passed in Parliament despite "hurdles by the opposition".