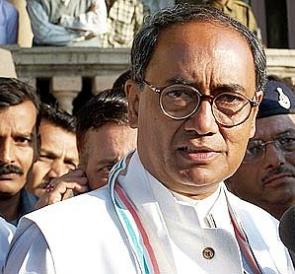 Continuing with his praise of Arvind Kejriwal, Congress leader Digvijaya Singh on Thursday said that Bharatiya Janata Party's prime ministerial candidate Narendra Modi should learn austerity and humility from the Aam Aadmi Party leader.

"Modi should learn austerity and humility from Kejriwal and Mamta who use Wagon R and Maruti Alto. Shouldn't NAMO be using NANO," Singh tweeted on the day the Kejriwal-led government won the trust vote in the Delhi assembly with the support of the Congress.

Incidentally, Singh had fired many barbs against Kejriwal and his team at the time of activist Anna Hazare's anti-corruption agitation. But he has been praising Kerjiwal ever since the latter's impressive show in the Delhi polls.

Meanwhile, All India Congress Committee general secretary in-charge for Delhi Shakeel Ahmed dismissed contentions that the Congress extended support to the AAP to halt the march of Narendra Modi.

"Wherever Modi went to campaign for the BJP in Delhi, the candidates of the Opposition party lost. We wish that Modi addresses more rallies in Delhi in the coming elections causing
greater losses to the BJP," he said.
Ahmed also congratulated the AAP on winning the trust vote but reminded Kejriwal that he will have to fulfill the promises made before polls.
"We have fulfilled our promise. All our eight legislators have supported the AAP to form a government. Now they have to fulfill promises that they have made to the people," he said.
On questions about whether the Congress's support to Kejriwal will continue even if the AAP government starts acting against Congress leaders over corruption cases, Ahmed reiterated the unequivocal support to Kejriwal's government announced by Delhi Pradesh Congress Committee chief Arvinder Singh Lovely, who was a minister in the Sheila Dikshit government.
"Our chief minister or ministers have done nothing to fear a probe. Neither the media nor the AAP should try to raise any such bogey. Every new government talks about corruption in the previous government," he said.
"Today, Kejriwal is talking about corruption during the previous government's rule. Any new government that comes to power in the future could level similar allegations against Kejriwal's government. This goes on in politics," he said.