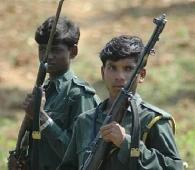 The Communist Party of India - Maoist, which had claimed responsibility for the May 25 attack that left many Chhattisgarh Congress leaders dead, on Thursday denied that the incident had any political link.
In a press release, Ramanna, secretary of the Dandakarnya Special Zonal Committee of the outlawed party, ruled out any political conspiracy behind the attack and said both the Bharatiya Janata Party and the Congress were blaming each other for it just to milk political mileage ahead of the assembly polls.
The outfit also apologised for the death of Dinesh Patel, the son of Pradesh Congress Committee chief Nand Kumar Patel, in the incident.
But both the ruling BJP and the Congress, which have been pointing fingers at each other for the attack, questioned the veracity of the "press release".
Leader of opposition in the Chhattisgarh assembly Ravindra Choubey demanded a probe into it, claiming that the BJP was behind the statement.
He questioned the timing of the "press release" as assembly polls are scheduled to be held in November in the state.
"The BJP is afraid of losing its ground in Bastar in the forthcoming elections and its involvement behind the release cannot be ruled out," he said
The BJP, in turn, alleged that the Congress had orchestrated the "conspiracy" ahead of elections.
"Why did Ramanna have to come out with an explanation that it was not a political killing," BJP state spokesperson Srichand Sundarani said, alleging a collusion between the Congress and Naxals.
"It is an attempt to save a few leaders of the Congress involved in the attack," he alleged.
The CPI-Maoist claimed the Bastar attack was staged to as retribution against Salwa Judum -- an anti-Naxal vigilante group -- and to avenge Operation Green Hunt against Naxals.
Naxals had ambushed a convoy of Congress leaders in Bastar, killing 27 people, including state Congress chief Nand Kumar Patel, his son Dinesh, tribal leader Mahendra Karma who had founded the Salwa Judum and former legislator Uday Mudaliyar.
Senior Congress leader Vidya Charan Shukla, 84, who was seriously injured in the attack, succumbed to his injuries two weeks later at a Gurgaon hospital.