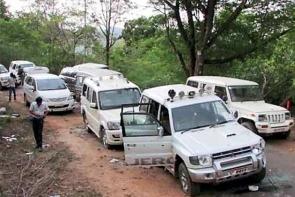 Sources in the Intelligence Bureau and the National Investigation Agency claim that the Naxals had precise information about the movement of the Congress convoy which came under attack on May 25, reports Vicky Nanjappa

The precision with which the attack on the Congress convoy took place on May 25 at Darbhaghati in the dense forests of Bastar in Chhattigarh has led investigators to believe that there was an insider who provided vital information to Naxals.
Even though the home ministry has denied the involvement of any Congressman in the massacre, which left 28 including senior party leaders, dead, the National Investigation Agency continues to probe this angle.
The agency, which has been probing the lapses that led to the attack, claimed that it now has some amount of clarity regarding an insider, who could have tipped off the Naxals.
At first the NIA suspected foul play and said that the route of the Congress convoy was changed at the last minute. However, a further probe into this aspect has revealed that both the routes were infested with Naxals.
"The route on which the Congress convoy finally proceeded was in fact a better route. It was closer to their destination as compared to the other one in which they would have had to travel an additional 70 kilometres," said an NIA official.
The precision of the landmine blast led the NIA to suspect the involvement of an insider. Sources say that the Naxals were well prepared and had proper information about the convoy's route and the time at which it would reach the attack site.
Intelligence officials told rediff.com that without doubt the Naxals had precise information about the movement of the Congress leaders. While sources in the NIA said that an insider was involved in the attack, they refused to comment if he was from the Congress.
"We are looking at a conspiracy theory and will unravel the mystery before submitting a detailed report to the home ministry," an investigating officer told rediff.com.
Congress MLA Mahendra Karma was the target because of his involvement in the Salwa Judum movement. But why was Chattisgarh Congress Committee Chief Nanda Kumar Patel and his son killed? Moreover, tribal Congress MLA Kawasi Lakma was spared by the Naxals. This raised suspicion in the mind of investigators.
Naxals avoid selective killings, but in this case the modus operandi appeared to have been different, said the NIA. Was someone trying to wipe out the Congress command? The investigations continue.