Jailed Gujarat police officer D G Vanzara is believed to have shot of a letter to the Gujarat home ministry put off by his guru Asaram Bapu's arrest in a rape case. Sheela Bhatt reports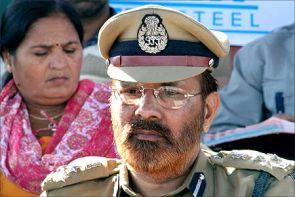 There is no doubt that there is some truth in D G Vanzara's (jailed Gujarat police officer and prime accused in several fake encounter cases) 10-page letter to the Gujarat home ministry. But its timing suggests that he was disheartened by his guru Asaram Bapu's arrest in a rape case.
According to a senior analyst in Ahmedabad, Vanzara belongs to the gypsy tribe in Gujarat, who are ardent followers of Asaram bapu. Vanzara and his IAS brother are ardent bhaktas of the godman. Since long Vanzara was frustrated with the Gujarat government and political leaders he "served", who had abandoned him and his fellow officers.
He had been feeling cut off, particularly, by Gujarat Chief Minister Narendra Modi and former Home Minister Amit Shah.
His letter to the home ministry is dated September 1, the day Asaram Bapu's hope to save his skin were dashed.
In desperation, Asaram even visited Surat thinking that Modi's government would help him in evading arrest. Those who know Vanzara say that he is extremely hyper in matters concerning his guru. He is said to have sent the letter after seeing his guru going to jail.
A senior analyst, who has been a harsh critic of Modi, told rediff.com that Asaram's arrest must have angered Vanzara to break his silence. The letter is not exactly a "bombshell" because Vanzara tries to protect Modi as much as he can.
He torpedoes Amit Shah's public image further but in the end Congress or secular hearts may not be able to applaud Vanzara because, as narrated throughout the letter, he wants protection and resources from the government to fight his alleged crimes.