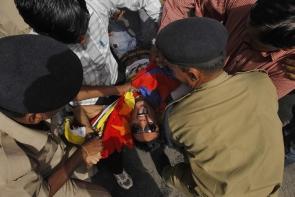 Three Tibetan activists were detained on Monday for staging a protest near Taj Palace Hotel where visiting Chinese Premier Li Keqiang is staying.
One of the activists unfurled a banner reading 'China Out of Tibet, China Out of India. Li Keqiang: Tibet Will be Free' after climbing up a structure in a gas filling station near the hotel.
They were immediately detained and taken to the nearest police station.


Tibetan organisations are staging protests in different parts of Delhi against the three-day state visit to India of Li.
Shouting slogans against the visiting Chinese dignitary, the Tibetans said they held Keqiang responsible for the spate of self immolations in their homeland. "Li Keqiang is responsible for the killings in Tibet. 117 self immolations have happened and he is responsible for all the things," said a female protestor.
More than 100 Tibetans have set themselves on fire to protest against Chinese rule since 2009 across a large swathe of ethnically Tibetan regions, with most of them dying from their injuries.
The Delhi police has already stepped up security with several routes, including ones near the Chinese embassy, shut.
Four metro stations, including the Race Course station near the PM's house, will also be closed for a few hours on Monday.
A large number of personnel have been deployed at the Chinese embassy and the hotel where the Chinese premier is staying.
Image: A Tibetan exile is detained by police outside the Chinese embassy during a protest against the visit of Chinese Premier Li Keqiang, in New Delhi | Photograph: Oleg Popov/Reuters