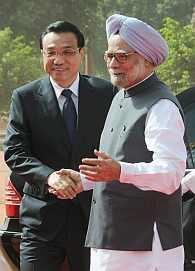 Chinese Premier Li Keqiang on Monday said peace and regional stability cannot be a reality without strategic mutual trust between China and India. "And likewise the development of prosperity of the world cannot be a reality without the cooperation and simultaneous development of China and India," he said after inspecting a guard of honour at Rashtrapati Bhavan.
Li, who was accompanied by Prime Minister Manmohan Singh, said he and Dr Singh had "a most productive session" of talks on Sunday and he expected "more bountiful results" from further discussions. "The purpose of my current visit to India is three fold -- to increase mutual trust, to intensify cooperation and to face the future," he said, adding that he hoped that the two sides would increase strategic mutual trust.
He also said a China-India regional trading association would be launched along with an economic trade corridor. "I will have in-depth discussions with the Indian PM and other leaders to take our relationship forward and settle our differences," he said.
In Monday's world both sides see each other's development as a major opportunity, the Chinese premier, who had a "candid" meeting with Dr Singh in New Delhi on Sunday night, said.
Li, who arrived in New Delhi on a three-day visit to India, his first foreign tour after assuming charge, said, "On the basis of strategic mutual trust, the two countries have struck a new kind of relationship which could be described as healthy and sound. "That would be a true message for Asia and the world," he said.
Maintaining that the large markets of the two countries have created enormous potential for growth and prosperity in Asia and the whole world, he said, "China and India have decided to intensify practical cooperation."
He said the two sides will launch China-India regional trading engagement negotiations besides an economic corridor. "We will support the development of industrial zone in each other's country so as to support economic growth between them," he said.
Li said another purpose of his visit was to look ahead to the future as Asia is expected to play a more important role in the 21st century.
"Most importantly the consensus that we have reached during this trip is that the seeds that we sow today will keep growing into harbouring trees laden with rich fruits," the Chinese leader said. He also said that China was looking forward to the Indian prime minister's visit later this year.

Image: Prime Minister Manmohan Singh shakes handes with his Chinese counterpart Li Keqiang at the ceremonial reception at Rashtrapati Bhavan | Photograph: Press Information Bureau