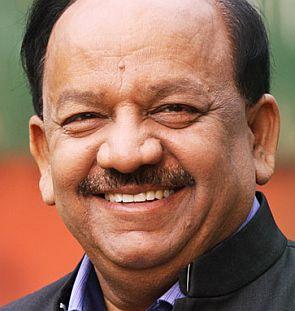 In a bid to break the impasse on government-formation, Delhi Lt Governor Najeeb Jung on Wednesday night spoke to Harsh Vardhan, Bharatiya Janata Party's chief ministerial candidate and leader the largest single party in assembly polls, for discussion on Thursday on the issue and Vardhan is likely to point out that he does not have the numbers.
Jung called Vardhan over phone and told him that he wanted to discuss with him government-formation.
The Delhi polls threw up a fractured mandate with no party security majority in the 70-member assembly and BJP emerging as the single largest party with 32 seats on its own. BJP's ally Akali Dal has one MLA.
Aam Aadmi Party has got 28 seats in the assembly followed by Congress' eight. Janata Dal-United has won one seat while Mundka seat has gone to an Independent.
Vardhan told PTI that he conveyed to the LG that he was going to Raipur on Thursday to attend the swearing-in ceremony of Raman Singh as Chhattisgarh Chief Minister and will be able to meet Jung after his return to Delhi in the evening.
"The LG called me tonight and asked me to meet him tomorrow to discuss (govt formation)", Vardhan said.
Earlier in the day, both BJP and Aam Aadmi Party stuck to their ground of not forming a government and preferring fresh elections instead.
BJP's chief ministerial candidate reiterated his party's stand on the issue, saying it does not have the required numbers to form the government while AAP chief Arvind Kejriwal declared his party would prefer to face fresh polls.
The Lt Governor, on the other hand, continued consultations with experts to explore the next course of action.
Sources said that in the wake of the publicly stated position of both BJP and AAP, the Lt Governor was considering "all options".
It is learnt that Jung was also considering sending a report to the Union Home Ministry before inviting any party to form the government.
In a meeting on Tuesday, senior leaders in BJP told its 31 newly-elected MLAs to get ready for election in the next few months.
"We don't have the numbers to form a stable government. So, we are firm in our decision," Vardhan said.
The Election Commission had on Tuesday notified results of the assembly polls in Delhi, paving the way for start of the formal process of government formation by the Lt Governor.
If President's Rule is imposed, then the Lt Governor will run the government with the help of a group of advisors.
In a related development, President Pranab Mukherjee on Wednesday asked the Lt Governor about the process of government formation in Delhi even as BJP.
Official sources said Mukherjee asked Jung about how he was proceeding on the issue amid speculation that Delhi will be put under President's Rule and fresh elections will be announced.
Image: BJP's Delhi CM candidate Harsh Vardhan