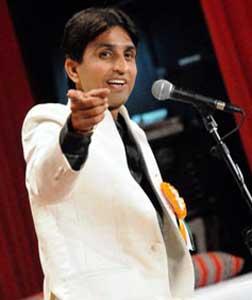 After making an impressive debut in the capital, the Aam Aadmi Party on Wednesday said it will contest Lok Sabha elections, hinting that its leader Kumar Vishwas may contest against Rahul Gandhi.
AAP convener Arvind Kejriwal also appealed to "honest" people from all spheres and political parties, including the Congress and the Bharatiya Janata Party, to join the party in the fight against corruption.
He was addressing a public meeting in Delhi to mark the party's victory in assembly elections in Delhi. Kejriwal did not divulge how many states and seats AAP will contest Lok Sabha elections from.
Kejriwal said they would need more funds to contest Lok Sabha elections and urged people to donate generously.
"This fight (assembly election) could not be fought without your donations. We will now contest Lok Sabha polls and request you to donate generously," said Kejriwal.
Manish Sisodia, who won from Patparganj assembly seat in Delhi, said party member Kumar Vishwas can contest Lok Sabha elections against Rahul Gandhi.
Image: http://www.kumarvishwas.com/