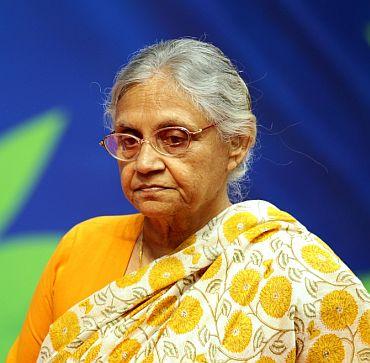 Opening a new front against outside supporter Congress, the Delhi government on Monday wrote to the President seeking action against former Chief Minister Sheila Dikshit for alleged irregularities in regularising unauthorised colonies in the metropolis.
The move comes after the President sought Delhi government's comments on the report of the Lokayukta in which Justice Manmohan Sarin in November 2013 had ruled that granting of provisional certificate for regularisation of unauthorised colonies in 2008 by Dikshit was done to gain political mileage in the elections.
During the subsequent hearings, the Lokayukta also had observed that the conditions of the Supreme Court order have not been complied with during the issuance of the provisional certificates prior to the election and sent the report to the President.
A complaint regarding the matter was filed by Bharatiya Janata Party leader Harsh Vardhan in 2010.
Vardhan had alleged that Dikshit had misused her power while issuing provisional regularisation certificates to unauthorised colonies in 2008. The Delhi government had issued provisional regularisation certificates to over 1,218 unauthorised colonies before the 2008 assembly polls and had announced regularisation of 1,639 colonies just before the polls now.
These unauthorised colonies in which around 40 lakh people reside do not have basic amenities.