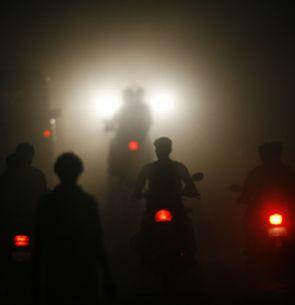 Areas in East and Central Delhi face a blackout risk from Saturday as the State-run National Thermal Power Corporation on Friday rejected the Delhi government's plea not to stop electricity supply to the BSES Yamuna Power Ltd for defaulting on payments.
Sources said the Delhi government had requested NTPC to extend the time limit for making the payments but the power generating company decided not to do so.
The decision by NTPC was conveyed hours after Chief Minister Arvind Kejriwal accused BSES discoms of trying to blackmail the government by threatening power cuts up to 10 hours a day.
Kejriwal even warned them of strict action including possible cancellation of licenses.
The Reliance Infra-backed BYPL owes around Rs 120 crore to the NTPC for supply of power for the month of December.
BYPL has already informed the Delhi government that areas under its jurisdiction may face eight to 10 hours of power cuts from Saturday as the company was facing a serious fund crunch to buy electricity.
In a letter to Delhi's Power Secretary Puneet Goel, the BYPL sought immediate financial assistance from the government to deal with the difficult situation as it was not able to make payments to various state-run power generators, including NTPC and NHPC.
The discom said banks have "withdrawn new funding support" owing to accumulated revenue arrears of Rs 6,200 crore and it was finding it difficult to arrange power for the city.
The BYPL had sought immediate intervention of the Delhi government in helping it overcome the situation and urged it to take up the issue urgently with NTPC, NHPC, the ministry of power and ministry of finance.
The company said banks are "alarmed" by the Delhi government's "subsidy-led" approach to tariffs, regardless of actual cost of power.
The BSES Yamuna Power Ltd and BSES Rajdhani Power Ltd, which supply power in 70 per cent areas in Delhi, owe around Rs 4,000 crore to Delhi government-run power generation and transmission companies.
Both BRPL and BYPL have maintained that they are going through a difficult financial condition. They have been demanding a significant hike in tariff, citing rise in power purchase cost.
Image used for representational purpose only