The Railways has said the guard stepped out to inspect noise from a rake, while another version says he got off to have tea. Rachana Parmar reports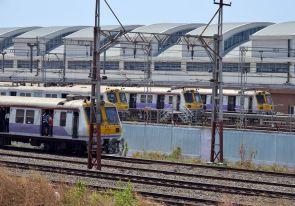 A Churchgate-Dahanu Electric Multiple Unit left Palghar railway station without the guard onboard early Thursday morning. The guard who missed the train took an autorickshaw to Boisar railway station to catch the EMU, but by the time he reached Boisar, the train had already left for Dahanu with a replacement.
The Western Railway has confirmed the incident. They said the guard had got off the train to inspect noise coming from a rake. However, sources in the WR say the guard had actually stepped out of the cabin for a cup of tea.
On Thursday morning, EMU local 93005 Down left Churchgate around 0524 hours for Dahanu. It reached Palghar railhead around 0727 hours. An official at Palghar railway station said the guard, Radhesham Sharma, 55, got off the train and went to a nearby food stall for a cup of tea.
When Sharma realised the train had already left the station he rushed to the traffic signal cabin to inform them about the situation.
"The guard's cabin halts right opposite a food stall, which could have prompted the guard to rush for a cup of tea," said a motorman on condition of anonymity.
Sharma immediately took a rickshaw to Boisar railway station, which is about 15 km from Palghar. But by the time he got there the train had already left for Dahanu, said an official.
At Boisar station, the Station Superintendent was informed by his Palghar counterpart about the situation. Another guard was deputed and the train left without any delay, the official said. The EMU local was piloted by E Rajan, said a WR source.
Chief Public Relations Officer, WR, Sharat Chandrayan denied that the guard had got off the train for tea. "This is the first time I am hearing about a guard leaving his cabin for a cup of tea. As per my information, there was some noise from a rake and the guard had gone down to check it. There was a miscommunication and the local left Palghar station," said the CPRO. "We will conduct an inquiry into the matter," he added.
The entire fiasco has brought out another interesting aspect. A WR motorman on condition of anonymity said that motormen on the early morning shift have to pilot trains without their morning cup of tea. "The WR should install coin-operated tea machines at Churchgate, Dadar, Borivali and other starting points, so that motormen can have a cup of tea and avoid such incidents."
"Even if the guard got down from the cabin to inspect noise from a rake, he should have applied the emergency hand brake in his cabin. He should have also informed the station master about the noise," the motorman added.
"It seems a commuter must have pressed the signal bell fitted in the guard's cabin, which prompted the motorman to start the train," he said