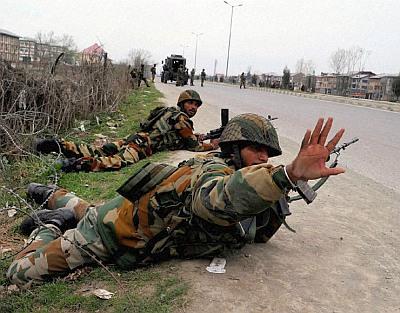 In a first such step for a central armed police force, the Central Reserve Police Force has decided to honour its jawans and officers killed in action with the prefix 'Shaheed' in their names.
The country's leading anti-Naxal operations force, which by virtue of its huge deployment has the highest casualty rate among all forces deployed in internal security duties, has issued instructions for use of the prefix with immediate effect for all casualties where the trooper or officer was on duty.
Recently, Central Reserve Police Force Director General Dilip Trivedi wrote to his field formations for implementing the instructions in this regard in 'letter and spirit'.
"There was a demand from all quarters about the need to address our slain personnel in a befitting manner. We found there is nothing that restricts us from taking a decision in this regard and, in order to give full respect to our martyrs, we recently issued directions to prefix their names with 'Shaheed'," Trivedi said.
CRPF has the maximum deployment of troops in anti-Naxal operations at close to 90,000 personnel and has lost hundreds of men in combating Maoists over the years.
All official communication, messages, addresses and citations will mention 'Shaheed' before the name of any jawan or officer who was killed in action in any theatre where the force is deployed -- Left-Wing Extremism, anti-insurgency in North East, operations against militants in Jammu and Kashmir and for rendering any sort of law and order duty across the country, the DG said.
The country's largest paramilitary force, with 3-lakh personnel, also recently instituted trophies in the names of its 'Shaheed' troopers who were awarded military medals of bravery or top police gallantry medals.

"This is the first time the force has publicised the names of its martyred troopers with the prefix 'Shaheed'," said a senior official.
Officials said that a number of jawans and officers in the force come from a rural background and, often, when officers went to these places with the body of a dead trooper, they were asked whether this small respect by way of the prefix in their names could not be extended to the slain personnel?
"We would try and explain to the bereaved families that there was no such instruction or order and, at the same time, feel helpless. The new orders at least ensure some solace for the family of the personnel who has left behind nothing but a tale of his or her martyrdom," the official added.

The central police forces and their ex-servicemen organisations have time and again made representations in this regard to the government saying this honour (of calling them 'Shaheed') for the troops would not only act as a morale booster but also enhance their self-respect.

These forces, at present, issue pension-related benefits to slain personnel's family while the government decorates them with various gallantry and police medals.
The 9-lakh personnel strong Central Armed Police Forces is made up of CRPF, BSF, ITBP, SSB, CISF, NSG and RPF.

In a similar measure aimed at boosting morale, the previous UPA government had issued orders for categorising the retired personnel from these forces as 'ex-central armed police forces personnel' on the lines of the three armed forces.