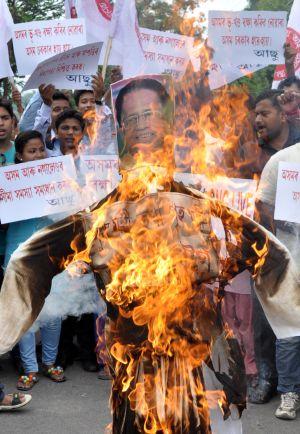 The situation was on Saturday peaceful along the Assam-Nagaland border in Golaghat district, where 11 people have died so far, but nearly 10,000 people have fled their homes to take shelter in relief camps.
Briefing reporters, Assam Chief Secretary Jitesh Khosla said that the Nagaland government "is cooperating with us though certain underground elements were fomenting trouble in the border areas".
Meanwhile, normal life was affected in the border areas following the rail and road blockades called by different organisations to protest against the killing by miscreants from neighbouring Nagaland though no fresh incidents of violence were reported so far, police said.
Khosla said that according to an agreement signed in 1979 between the two neighbouring states, the Central Reserve Police Force was assigned to maintain law and order in the area and since the outbreak of fresh violence on August 13, the strength of the paramilitary force has been increased.
"Assam government has deputed magistrates from Golaghat to monitor the situation and to ensure that the situation remained under control," he added.
The situation in the affected areas was "currently peaceful though nearly 10,000 people have fled their homes and taken shelter in relief camps set by the district administration".
The district administration has been directed to make necessary arrangements for those taking shelter in relief camps and take measures to ensure that they are able to return to their homes at the earliest, Khosla added.
Nine bodies were recovered from disturbed Uriamghat area on Friday while two others were killed earlier by miscreants from across the border with the Golaghat district administration imposing night curfew from 6 pm to 6 am along the border villages.
Meanwhile, train services were affected in Upper Assam areas following the indefinite rail blockade called by activists of the Krishak Mukti Sangram Samiti blocking railway tracks at Naojan area in Golaghat to protest against the violence.
The Kamakhya Express, Lumding-Tinsukia Passenger Express, Mariani-Guwahati Express, Dimapur Express and Janashatabdi Express were running behind schedule as they regulated at different stations along the route, a North East Frontier Railway spokesman said.
Road traffic to and from Nagaland was also affected after All Assam Students' Union, Asom Jatiyatabadi Yuva Chatra Parishad, All Assam Adivasi Students' Association and All Assam Tea Tribes Students Association resorted to road blockade at Rangajan area to protest against the incident and demanding permanent solution to the border dispute.