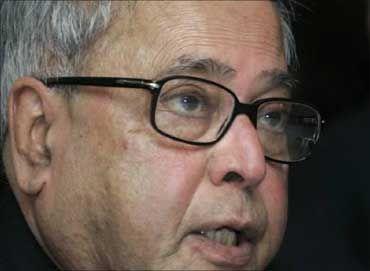 United Progressive Alliance nominee Pranab Mukherjee has secured a thumping victory in the presidential election surging ahead of NDA's candidate P A Sangma. Pranab Mukherjee becomes the 13th President of India.
Mukherjee got a vote value of 5,58,194, crossing the required half-way mark of 5,25,140 after counting of votes in half the states was over.
At the end of counting in Maharashtra, the 15th of the 30 states, Sangma, supported by some opposition parties including Bharatiya Janata Party, got 2,39,966 vote value.
A total of 748 MPs voted in the election on July 19. Of the total votes, Mukherjee got 527 votes while Sangma got 206.
Fifteen votes including that of Samajwadi Party chief Mulayam Singh Yadav were invalid.
Each MP has a vote value of 708. There are a total of 776 voters in both the houses of Parliament.
The electoral college consists of 4,120 MLAs in the states.
In Andhra Pradesh, which has a 294-member assembly, Mukherjee got the support of 182 MLAs including that of Congress and YSR Congress while Sangma got the backing of three. Five were invalid.
In terms of vote value, Mukherjee got 26,936 while Sangma 444. A total of 190 MLAs voted because TDP and TRS abstained.
Each MLA in Andhra Pradesh has a vote value of 148.
DV Mukherjee kept up his lead even in the northeastern state of Arunachal Pradesh, where he got 54 of the 59 votes polled.
The vote value corresponded to 432 for Mukherjee, while it was 16 for Sangma.
Three votes were invalid.
In Bihar too, where the ruling JD-U has declared support for Mukherjee, the UPA candidate got 146 out of the 240 votes polled in the 243 member Assembly. Sangma got 90, mostly from BJP, which shares power with JD-U.
Mukherjee's vote value in in the state was 25,258 while for Sangma it was 15,570.
Three votes were invalid while one did not vote.
In BJP-ruled states of Chhattisgarh and Goa, Sangma got majority of votes. In the 90-mmember assembly of Chhattisgarh, 39 votes went to Mukherjee while Sangma got 50. One vote was invalid. In terms of vote value, Mukherjee got 5,031 while Sangma got 6,450.
Mukherjee got 9 votes and Sangma 31 in 40-member Goa a assembly. In terms of vote value, Mukherjee got 180 while Sangma got 620.
Mukherjee got 59 votes and Sangma 123 votes in 182-member Gujarat assembly where BJP has the majority. In terms of vote value, Mukherjee got 8673 while Sangma got 18,081.
In 90-member Haryana assembly, Mukherjee got 53 while Sangma received 29. Eight were invalid. In terms of vote value, Mukherjee got 5936 and Sangma got 3248.
Pranab Mukherjee led Jammu and Kashmir and surprisingly in Jharkhand where BJP shares power with JMM. In BJP-ruled Himachal Pradesh Mukherjee trailed as expected.
In 68-member Himachal Pradesh assembly, Mukherjee got 23 votes while Sangma won 44 votes. One vote was invalid. Mukherjee's vote value was 1173 while it was 2244 for Sangma.
Jammu and Kashmir gave Mukherjee 68 votes while Sangma got 15 votes. Two votes were declared invalid. Mukherjee's vote value here stands at 4896 while Sangma got 1080. The assembly has 87 MLAs.
In 81-member Jharkhand assembly, Mukherjee got 60 votes while Sangma won 20. Mukherjee's vote value is 10560 while Sangma's stands at 3520.
There has been apparent cross-voting in Karnataka where BJP runs a government. UPA candidate Pranab Mukherjee got the majority votes in the 224 member assembly with 117 MLAs voting for him. Sangma could get only 103 votes while three votes were invalid. One MLA did not vote.
The value of votes polled by Mukherjee was 15327 while it was 13493 for Sangma.
In Kerala it was a clean sweep for Pranab Mukherjee. He won all the 124 votes polled while one was invalid. Sangma drew a blank. CPI and RSP members abstained from voting which has a 140 member assembly.
         
Vote value for Mukherjee in Kerala stood at 18848.
In 230-member Madhya Pradesh assembly, Mukherjee got 73 votes while Sangma got 156. Four votes were invalid.
 
In terms of the vote share, Mukherjee got 9563 and Sangma 20,436.