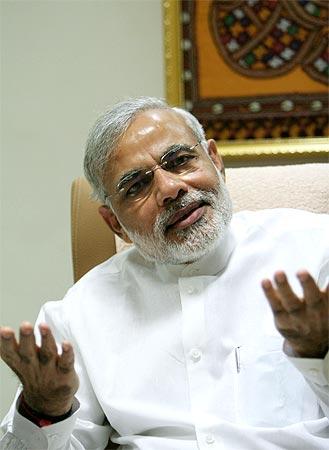 Dismissing his call for a debate on Article 370 of the Constitution, Congress on Monday advised Narendra Modi to discuss the issue first with Sangh Parivar, saying there is already "clarity" in the ruling party about it.
Party General Secretary Digvijay Singh also said that he "does not take Modi's statement very seriously" as the Bharatiya Janata Party's prime ministerial candidate "keeps changing" it from one place to another.
Alluding to recent gaffes of Modi in rallies related to historical events, Singh said that the Gujarat chief minister is "unaware of history" and has been speaking "untruth" on many issues.

"As far as my party is concerned, there in clarity on the issue (of Article 370 giving special status to Jammu and Kashmir). If Modi wants to debate, he should debate it within BJP and the Sangh. We have no objection if Modi, BJP and the Sangh debate it within them. We have no objection if they want a public debate...," Singh said.
In what appeared a somewhat softening of BJP's stand for scrapping Article 370, Modi had on Sunday said that there should be at least a debate on whether or not it has benefited J-K.
Addressing his first rally in Jammu after being named the BJP's Prime Ministerial candidate, he had said his party wanted a discussion on various aspects of the constitutional provision.
Union Minister Manish Tewari was quick to dismiss Modi's remarks, saying it reveals BJP's doublespeak.
"The manner they speak about Article 370 and Article 371 makes me conclude that they neither read the Constitution of India nor they have cared about detail....
They (Modi's remark) "completely reveal their (BJP's) doublespeak. 10 years ago, five years ago, one year ago you would hear BJP talking about abrogating Article 370. Now they are talking about debate on Article 370," he had said on Sunday